It's Our People Who Make The Difference
Start a career at Closet Factory. We are a franchise network made up of dedicated, inventive, and loyal employees who contribute to making Closet Factory a continually growing national success. No matter what job position our employees hold every one has a critical role in our success. We depend on each person to give every client an outstanding Closet Factory experience.
Our industry demands teamwork between departments to ensure a successful outcome for each custom project we design and install. To accomplish this we hire individuals who share our ideals – people who make a career out of offering professional service to others and passionate about what they do.
We like that our locations have a cultural mix of employees spanning generations that work harmoniously to get the job done. Employees receive a rewarding career and work environment that encourages each individual to perform at their best and have fun while they do it. We invest in training programs that teach everything there is to know about each position. Is it time for you to add your talent to our mix?
Design Your Career At Closet Factory
Is This The Place For You?
Culture of Care and Family
We said it before and we will state it again that we hire individuals who share our ideals and have passion for what they do—people who make careers out of helping others experience lifestyle changes through custom organization systems. We are a close-knit franchise network that provides those who join our teams with a rewarding work environment that encourages each individual to perform at their best. Although the culture at each location varies, all our positions call for teamwork, offer a strong sense of belonging and purpose and support you to accomplish your goals.
Growth Opportunities
Our industry is very specialized, and so many of our roles offer ongoing training and development providing you with business skills that transcend the industry and set you up with a foundation for future success. We like to promote from within, choosing to recognize those who drive themselves to succeed and love what they do. And because we are national, when major life events happen that take you away from one location, you can move to another allowing you to stay with your career and in the Closet Factory family.
Control Over Your Future
Regardless of prior career paths, educational backgrounds and cultural experiences, many of our positions offer tangible financial rewards and a fair amount of freedom. We recognize how important it is to our employees to feel creative with no financial limitations. You can reach your income and career goals by working for Closet Factory.
Employees Share Their Stories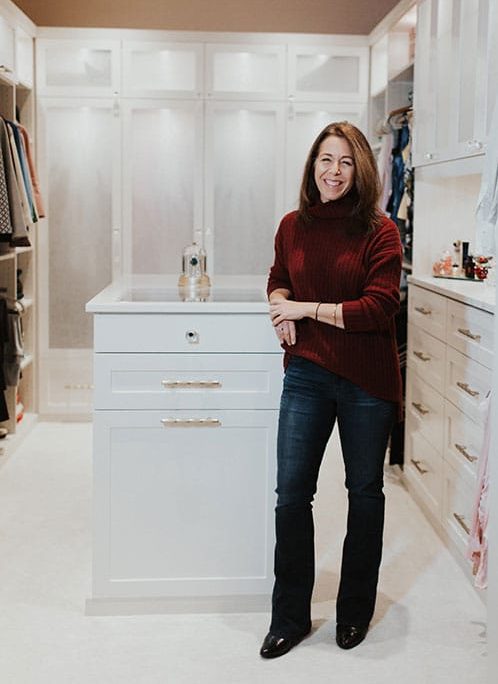 At The Heart Of It All
No matter what franchise location you work at or whether you came here for a job and turned it into your dream career, the customers we serve are at the heart of our success.
When Closet Factory began in Los Angeles back in 1983, we were committed to creating innovative storage solutions for every room in the home. Today, our products are in such demand that we continue to expand into new markets and advance our product offering maintaining our edge in product style over the competition.
When other closet companies turn down client requests for custom-stained or painted closet systems, we rise to the occasion taking risks so that we are able to deliver what our clients desire. We take the time to build our client's special requests so that when we say we create our client's dream closets, we mean it.
We have a program at the core of our company culture called Complete Client Care™, and it's ingrained into everything we do. To possess the Closet Factory spirit, you must have the same heartfelt desire to make our clients happy. For those committed to helping homeowners improve their space and lifestyles, you will easily fit right in.
Apply Now