Closet Organization Elements
At the core of Closet Factory's closet organization systems are highly practical features that bring a custom closet to life. These features are organized into any number of configurations to provide you with the best possible wardrobe closet.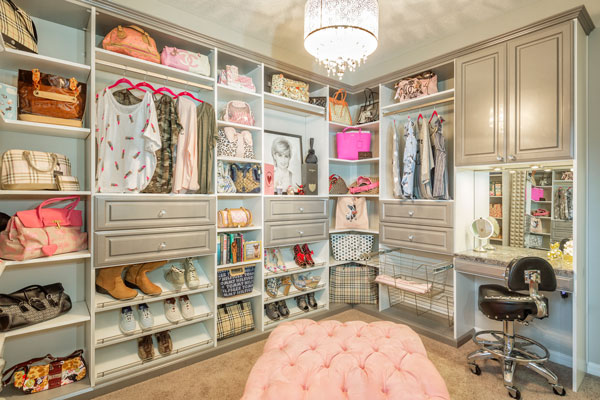 Based on the discussion you have with your design consultant, an organizational design will be created that focuses on the best use and placement of these features. Your designer understands how to organize a customized closet, and they will integrate these features expertly into the floor plan for maximum form and function.
A few of the most important features are:
Hanging
Hanging rods at various heights for short, medium and long clothes. Each hanging section can be designed to accommodate all of your clothing.
Shelves
Shelves are used for storage of everything from purses to folded clothing. Some items optimize space or preserve certain types of clothing best when stored neatly in piles on shelves instead of hanging on a rod.
Drawers
Solid, clear Lucite, framed Lucite faces are some of the many choices offered. Since drawers are custom manufactured by us, they can be designed in any size to fit specific items perfectly.
Doors
Solid, clear, Lucite, matte Lucite, framed are options to select from. Doors can be used to either display or hide what is behind them while offering added protection for specialty items.
Shoe shelves
Flat, pull-out, cubbies, or slanted with solid or Lucite toe-stops along with attractive metal shoe fences in every finish can be added to these shelves. Shoe shelves are designed so each pair has a space. They can be side-by-side or front-to-back on deeper shelves. These are among the most popular organization sections in closets.
Accessories & Upgrades
Add to the function and look of your closet with accessories and upgrades. Tie racks, belt racks, valet rods, drawer dividers, backing (matching or cedar), slatwall and accessories, cubbies, handles, rods.
Baskets
Chrome, white, linen, or rattan. Baskets are good for toys, laundry or anything else you wish to store in them. A great alternative to drawers or pull-out shelves and trays.
Pull-out Trays
Solid, clear Lucite, matte Lucite faces. Pullout trays help you access items even in deep spaces.
At a design consultation the designer creates a great working design with these various sections or combinations of them along with others not mentioned. Based on one's wardrobe and the size and shape of the closet a floor plan and elevations are created. These sections can be as deep or wide as function and structure dictates.