How-To Organize Your Kid's Closets

Is there an avalanche every time your kids open their closets? This is a common situation if you don't have a closet system in place for the closet. For most of us the prospect of tackling these spaces can be daunting. Once you get past how much work may be in store to get the clutter under control you can start to look at the benefits of getting your kid's closets organized and in the process teaching them good habits early on.
4 key benefits to organizing your kid's closet:
• An organized closet keeps clutter under control as it's easy to find what they are looking for without making a mess.
• Teaching and reinforcing organization in their closets and room ensure that it becomes a habit.
• Morning routines save time as your kids can easily match clothing and learn to dress themselves.
• Eliminate frustration over lost or misplaced items. Know what you have at a glance.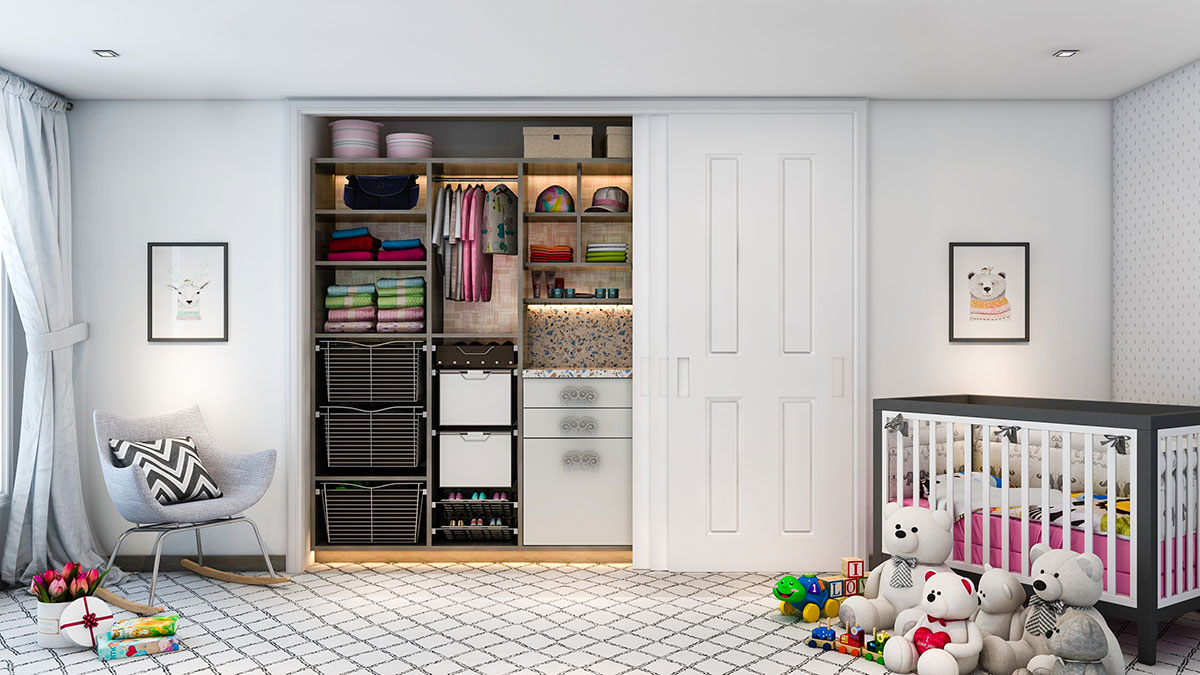 12 Steps to Make Your Kid's Closet Both Functional and Fun
1. The first step is purging, plain and simple. Get rid of outgrown clothes and broken or unused toys.
2. Once you've gotten rid of all the non-essentials, it's time to make a plan. Take inventory of your child's items then start figuring out which items are essential to daily use and which items are seasonal or need to be reached only by a parent. The organizational design of your child's closet will take shape from here.
3. Make sure the closet can grow along with your child. Create a closet system that has a variety of adjustable components, such as hanging rods and shelves. Then you can reposition them to accommodate larger-size clothes and accessories as your little one sprouts up.
4. Place items that are going to be used daily on open shelves at your child's eye level or lower. Daily items such as books, toys and shoes should be easy for little ones to see, reach and, most importantly, put away on their own.
5. Reserve high shelves for storing off-season items, extra blankets or for items that only a parent needs to reach.
6. Use baskets and boxes to keep things sorted and stored. Make sure the containers you select are small and lightweight, so it's easy for children to handle them on their own. Canvas bins make wonderful lightweight storage and are often available in a variety of fun colors.
7. For folded items, make short stacks to reduce the likelihood of clothes ending up on the floor. If you plan to store folded clothing in drawers, use shallow drawers if possible. If you have to use drawers that are deep and wide, add dividers so you can create several small stacks of items instead of trying to make larger stacks that inevitably end up a jumbled mess.
8. Use hooks to hang belts, hats and backpacks. It's best to place hooks out of kids' reach so they don't hurt themselves by running into them. A parent or older sibling can hang and remove items for the child.
9. Create double or triple hanging sections. For toddlers and small children, this is a great way to keep everyday items down low and special occasion items up top. For tweens and teens, double hanging maximizes the amount of hanging space available and offers the opportunity to neatly separate shirts and pants.
10. For kids who share a closet, using labels is essential. Put their names on all of their baskets, storage bins and drawers. It's also a good idea to divide the closet in half by placing drawers or a bookcase in the middle, then designating the spaces on the left and right to a specific child.
11. Find ways to customize the closet to fit your child's personal tastes. Paint the closet interior his favorite color, maybe even add wallpaper or hang some of his own artwork. If your little one likes to do things all by herself, create a bench seat on top of a toy chest where she can sit and put her shoes on or lay out what she wants to wear. You could even swap the closet doors for a colorful curtain.
12. Don't forget to get your kids involved in the organization process every step of the way. Organizing a closet is a wonderful learning experience for small children, as they begin to learn how to sort objects. Older kids will enjoy being able to give their input. Ask them where they would like things to go and once you've gotten everything organized, let them do their own decorating.
4 Kid Products for Closets that Help Them Stay Organized

It's important to provide your kids with the right tools. This helps them stay on top of the mess and not revert back to their old habits. Plus it makes it more fun.