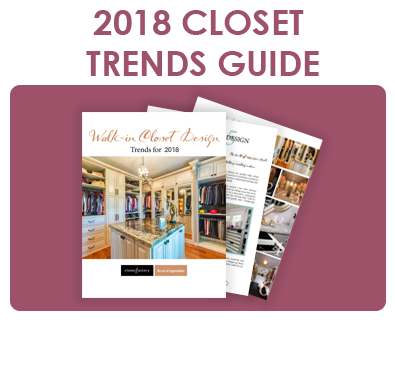 Maximizing Your Walk-In Closet's Potential
As a tastemaker in the custom closet industry and a leader in the art of organization, Closet Factory is proud to announce the publication of our 2018 Walk-In Closet Trends Guide which describes and demonstrates the latest trends in walk-in closet design.
Every year we design thousands of closets and visit some of the most prestigious homes across the country. We see beautiful, professionally designed homes and work with people who have a special flair for creativity and design.
Our guide is created based on the trends we see and our predictions for how they will evolve. Stay on top of the latest in closet design with our 2018 Walk-In Closet Design Guide. You will not only be inspired to create your own custom closet, but you will come to understand why we say the 2018 design trends reflect:
The past and present colliding
Nature continuing to inspire
Clothing curating evolves
Light over dark
The birth of man cave closets
Combining the trendsetting elements of function, creativity, and style, Closet Factory's walk-in closet designs go hand in hand with the versatility and creativity called for by today's design innovators.
By Closet Factory Design Staff
Click below to download your guide!