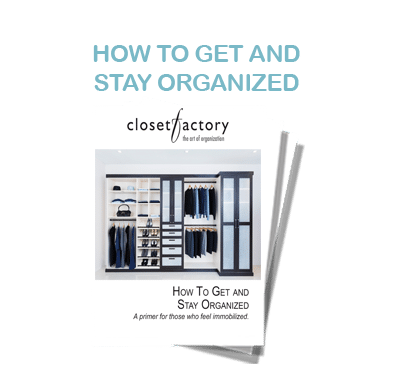 About This Guide
One of the greatest benefits of owning a custom closet it that it helps you bring organization and beauty to your life. That's why Closet Factory teamed up with Regina Leeds, a professional organizer for more than 20 years, to create this amazing download guidebook called, "How To Get and Stay Organized."
Regina walks her readers through the important stages of organization, comparing the skill to that of learning an instrument or mastering a sport. She then explains exactly why it is important to get organized, how organization will improve your life, and how it will improve the look and beauty of your home so that it functions better.
Because this guidebook is designed to create calm and beauty in your life, Regina helps her readers not to think of any organization project as one giant task. Rather she encourages her readers to break each project down into manageable chunks.
The most important chunk is eliminating what you don't need. She explains that the best way to do this is to create categories so that you can achieve "inventory control."
One of the most popular sections in this guidebook is creating a series of habits that will help reinforce the value and rhythm of organization. Some of the best habits to practice, according to Regina include:
Making your bed
Checking your trash cans daily and empty them when necessary
Placing your keys, glasses, or remote in the same spot every day
Never let dirty dishes sit in the sink or clean ones languish in the drain board or dishwasher
Complete every action you start
Click below to download your guide!