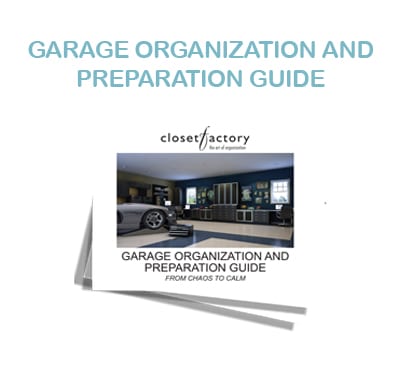 About This Guidebook
Organizing your garage storage can be as important as organizing your closet.  The reason is because the garage is typically used by every member of the household. For example, for children, the garage might be the place where they store their bicycles; for men, it might be the place to store their favorite old car, and for women, it might be the place to store the gardening equipment.
Unfortunately, with all of these intersecting footpaths, organizing your garage storage can be challenging because the space is typically ends up being a catch-all for everyone's stuff, creating a disorganized disaster.
Closet Factory believes in setting the standard for garage storage organization, and has created amazing garage storage solutions for thousands of clients.
Importance of Garage Storage Organization
If your garage storage situation is currently a mess, you should consider taking some time to reorganize everything. It may take an entire day, but creating a usable garage will be well worth your time. For example, you can:
Create A Place for Your Car
One of the most valuable possessions of many people is their car. Having a garage with enough room to park your vehicle and protect it from exposure or theft is an important part of tranquil life. With too much clutter, you may have to start parking the car in the driveway or street. Moving things into cabinets or shelves will allow you to park one or even two cars in your garage.
Have Easier Access to Everything Else
The garage is generally used as a storage area for things you do not use often. However, when you do need something, think about how much time it takes for you to find it. By organizing your garage, you can find everything from Christmas decorations to power tools with ease and speed.
However, whether you want more space for your tool collection, or want to create a special workshop, organizing your garage is one of the most important first steps you can take.
That's why Closet Factory has created our "Garage Organization and Preparation Guide" that includes a thorough checklist to better help you create an inventory of your garage possessions. Specifically, the checklist helps you organize the following:
Vehicles
Sports Equipment
Garden and Lawn Equipment
Tools and Workbench Equipment
Hobby and Craft Storage
Miscellaneous Storage
Appliance
Furniture, chairs, lawn furniture, etc.
Click below to download your guide!