Walk-in Closet Design an Architectural Digest Finalist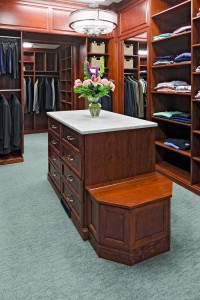 Last week the walk-in closet design finalists were announced by Architectural Digest's Reader Closets Showcase. We were thrilled to find out that Sue Pike's custom walk-in closet was one of them! (You can vote for her project from the AD link above; it's in Goochland VA.)
Sue Pike is an accomplished designer with the Richmond, Virginia Closet Factory. She submitted a gentleman's dressing room from Goochland, VA that was created within a new space. The client wanted a closet organizer that included many details including a center island with built-in bench, long and short hanging, cubbies for folded shirts, adjustable rods and shelving, velvet-lined drawers, shoe shelves and a tie cabinet with tie racks.
This is an elaborate walk-in closet that had a few challenges. It was a divided floor plan and Sue covered all of the plain walls with custom matching stained wood paneling so that the two areas were joined together. Notice the paneled soffit between the two areas, which is now an elegant focal point. She also covered an HVAC duct and enclosed it within the tie cabinet.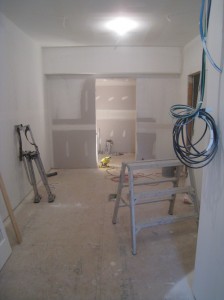 "This is a true storage haven," Sue says. "It had to be both functional and elegant so we paid careful attention to both."
Anyone can vote for their favorite closet design once every 24 hours. Reader votes count for 25% of the final score. AD editors evaluate creativity of design, room transformation and overall aesthetic.
Sue's closet design is a spectacular use of space and materials. We know which one WE will be voting for! Hope you'll join us.
Want more walk-in closet design ideas? We're adding new ones to our gallery all the time!