Custom Closets and Personalized Storage Solutions
A personalized storage solution built around you; that is what you find at Closet Factory.
Our team of space-enhancing designers, manufacturers, and installers have been custom organizing homes throughout Virginia with state-of-the-art closets, home offices, entertainment centers, garages, wall beds, mudrooms and more since 1999.
Our goal, from the simplest space to the most complicated design challenge, is to create a custom organization solution that is 100% tailored to your individual needs and desires.
Richmond Home Magazine awarded us the 2012 Reader Favorites Award for Closet Installation and Home Organization. We are proud of this award and of what we do: creating clutter-free, stress-reducing, attractive living spaces. This is our passion and purpose.
During your complimentary in-home consultation, your personal design expert will listen carefully to what you want. We take the time to ask for details about your storage needs, taking careful measurements of your space. We count every shoe, handbag, scarf, and piece of jewelry to ensure that your new closet accommodates all your needs. Our goal is to give your life more order, more control.
Once you're satisfied with the design and have approved every feature, we go back to our factory, where each piece is manufactured locally to your specifications. We never use any pre-fab or pre-assembled products. Then our installers — all Closet Factory employees — will flawlessly install your newly designed space. We check and re-check every piece — so well, in fact, that many say our work is like furniture that was always meant to be there.
When the last piece is put into place, you receive our lifetime guarantee on the product.
We invite you to browse through the galleries to get a better idea of what we can do and contact one of our designers soon.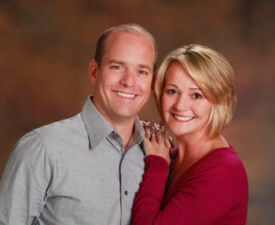 Bryan and Teresa Mueller
Owners
Closet Factory Richmond, VA
CLIENT TESTIMONIALS
"HomeMasons, Inc. has used Closet Factory on many remodeling and handyman jobs. They are a great family-owned friendly business with amazing customer service. The Closet Factory always is prompt in reply and accurate on quotes to help with our budget allocation and staying within that budget. They provide high end products at a great price."
– HomeMasons via Houzz
"Sue is a consummate professional! She made the closet design process simple with tried and true suggestions and the added visual reinforcement of computer graphics. A quick stop at the outstanding Closet Factory showroom and our conceptual design had color and texture detail that really helped with final selections. Sue also followed up with our builder and her installer the whole way!"
– Kate V. via Houzz
"My husband and I continue to be thrilled with all the work you completed at our home! We first contacted Closet Factory when we had the idea of converting a master closet into a laundry room. You not only helped us realize that vision, but redesigned our other master closet so we didn't lose any storage in the process. Next, your design of our pantry and kitchen cabinets, with both stationary and pull-out shelving, made our kitchen so much more functional. Best of all, you listened to my needs and created the perfect quilting and craft room! I appreciate the attention you gave to all the little details during each of the planning and design stages and the way you were present during each of the installations to make sure everything progressed seamlessly. My house is now not only extremely organized and highly functional – it's beautiful, too. You will be the first one we call when we are ready for our next project!"
– Deborah D. from Richmond, VA
"I love the closet!! You did a great job designing it! Dave was great. He was prompt, very professional and very neat. I was a little skeptical when he showed up by himself but he was very meticulous. He did a great job and was extremely neat and cleaned up everything perfectly. Thanks again and I will highly recommend Closet Factory."
– Lauri via email
"The closet is absolutely gorgeous! I'm so pleased with how everything turned out. Seeing everything completed yesterday after I came home from work yesterday was the perfect way to end the day. Thank you so much for your attention to detail and your patience with us throughout this process. I can't wait to start putting all of my clothes and accessories in my dream closet!"
– Aprile via email
"My husband and I have been enjoying our new closet so much!! The installer (Hieu) did an amazing job with the installation. Wow! We couldn't be more pleased. We are so thrilled that we had the installer we did. And – please know that any future need for closet or organizational work we have, we will once again call on you, our installer, and Closet Factory. Thanks to all of you."
– The McCormacks
"We used Closet Factory to install the racks and cabinetry in our wine room. Sue did an excellent job helping with the design and picking the finishes and color. The work was done exactly as planned, on time, and within our budget. Everyone was extremely professional and great to work with. I would highly recommend Closet Factory, and use them for future projects!"
– Joy D. via Houzz
"Our designer made great use of our closet space. The quality of both the product and the service met all of our needs. We love our closets!"
– Kathy G. from Mechanicsville, VA
"Our bookshelves look fantastic! Our designer knew exactly what we needed and made great use of the space. We couldn't be happier!"
– Tracy W. from Richmond, VA
"You're suggestions and Aarons expert installation left something for Bev and I to be proud of! We're almost back to normal and finding "stuff" we had cast aside and forgotten about! If we have any excuses to create more storage space …. you will be the first person we will seek out."
– OB K. via email
"Everything is done and exactly what I envisioned and needed. Ionel was incredible…as were you. Many, many thanks and tell Bryan his team was fabulous. I'm so happy and Paul is happy that I am happy. Win-win!"
– Amy M. from Richmond
"The closet is fantastic! Huge difference and we are able to store so much more in the same footprint."
– Jon C. via emai
"Rea and I have been both admiring and excited to see the "transformation" of both spaces. It truly is amazing as what can be done with a space! I started putting a couple towels in the bathroom space this am. As an aside…. David is excellent at what he does… meticulous, precise and methodical."
– Alison & Rea K.via email
"I am very happy with the laundry room and the extra storage space. The gentleman who installed the unit, John (Ionel), was excellent and went the extra mile to make it just what I wanted. He is a real asset to your company."
– Karen via email
"Oh my gosh — love it! Aaron was fantastic, and I'm very happy with the closet. Thanks for your note and the follow up!"
– Ilyse J. from Richmond
"The closet looks amazing! Can't wait to put our clothes in it! I didn't dream it would look this nice!"
– Kristi via email
"The closet makeover is wonderful. It functions very well and is aesthetically pleasing. It is a 'must-see' for anyone that visits me. The installer was so professional and did an expert job. My only wish is that I should have done it sooner."
– Beth S. via email
"The installation went great. Dave was the installer and he was thorough, organized and went above and beyond. Mike and I filled the closet last night and are thrilled with how it looks and functions. Again, I can't thank you enough for all your help. All the layout adjustments made the closet perfect for us and we even have a small bit of room to grow! We may add holes for 1 more shelf above Mike's set of drawers in the future but we will hold off for a little bit to see if we have any other adds. Dave is an excellent installer, so hardworking, very patient and managed all the quirks of our new-old house beautifully."
– Suzanne and Mike L. via email
"I just wanted to take a minute to thank you for your work. I love my closets! And also, the installer, please let him know again how pleased we were with the installation process, he was very cordial and respectful and the whole process went very smoothly."
– Rafael & Lia D. via email
"My husband and I are very pleased with our new closet. From our initial meeting and throughout the process Cathy was very professional and accommodating to our many changes and needs!  We also want to commend the office staff and installer, Daniel, for his quality work.Once again, it was a pleasure working with you and would highly recommend The Closet Factory!"
-Terry and Janet via email
"Our new cabinets are exactly what we wanted. The selection was easy with the expert help of Sue Pike, your design consultant. I really appreciate her input before and her continuous follow up during and after the install. Mark who did the install was terrific. He was efficient and courteous. It was a pleasure to have him do the work, unlike some other experiences we have had with people working in our house."
-Bill via email
"Perfect as usual!  Five Stars, of course."
-Katya via email
"Fantastic!!! Well worth the money and we are amazed how precise and accurate our closet came to be.  WELL DONE!!!" 
-Slate family via email
"Thank you Tasha for a warm, friendly and very helpful suggestions to deliver pantry/ laundry space that exceeded my expectations. Thank you Tasha and Thank You Closet Factory!"
-Ann via email
"We love our new kitchen pantry/storage area!! Not only is it functional ( and we really needed to free up some cabinet space), but it looks fabulous! I feel like it should have been part of the original kitchen, and we are so grateful for your suggesting this as a solution to our lack of pantry space. Genius!  Closet Factory does such a good job. We have used you all at three different residences now, and you never disappoint!"
-Spicer family via email
"We are extremely pleased with our renovated kitchen pantry.  Starting with our initial meeting with Tasha through Mark's installation, everything went exactly as described.  Everyone was polite and professional.  The quality of materials and workmanship are excellent.  Mark arrived to install everything early in the appointed "window" and was a model of efficiency. The project was finished by midafternoon, and the pantry was loaded up before supper.  Since the shelves are adjustable, we're thinking about ordering 1-2 more in the future.  We highly recommend Closet Factory."
-Emily via email
"Loving my new closet just finished loading my stuff in. Looks great and plenty of room for some new stuff"
-Colleen and Larry via email
"Peggy and her installer Jimmy were just fantastic to work with! Peggy visited us and came up with a great design for our MBR closet and laundry room. She worked within our budget and was always available to answer questions. Jimmy came to install and was here an entire day without us even really noticing. He did a phenomenal job installing and left everything neat and tidy. we would highly recommend both Peggy and Jimmy!"
Donna H via Houzz