Custom Closets and Personalized Storage Solutions
A personalized storage solution built around you; that is what you find at Closet Factory.
Our team of space-enhancing designers, manufacturers, and installers have been custom organizing homes throughout Virginia with state-of-the-art closets, home offices, entertainment centers, garages, wall beds, mudrooms and more since 1999.
Our goal, from the simplest space to the most complicated design challenge, is to create a custom organization solution that is 100% tailored to your individual needs and desires.
Richmond Home Magazine awarded us the 2012 Reader Favorites Award for Closet Installation and Home Organization.

We are proud of this award and of what we do: creating clutter-free, stress-reducing, attractive living spaces. This is our passion and purpose.
During your complimentary in-home consultation, your personal design expert will listen carefully to what you want. We take the time to ask for details about your storage needs, taking careful measurements of your space. We count every shoe, handbag, scarf, and piece of jewelry to ensure that your new closet accommodates all your needs. Our goal is to give your life more order, more control.
Once you're satisfied with the design and have approved every feature, we go back to our factory, where each piece is manufactured locally to your specifications. We never use any pre-fab or pre-assembled products. Then our installers — all Closet Factory employees — will flawlessly install your newly designed space. We check and re-check every piece — so well, in fact, that many say our work is like furniture that was always meant to be there.
When the last piece is put into place, you receive our lifetime guarantee on the product.
We invite you to browse through the galleries to get a better idea of what we can do and contact one of our designers soon.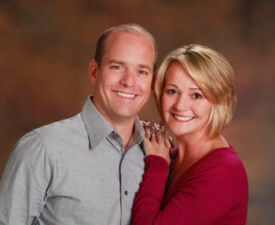 Bryan and Teresa Mueller
Owners
Closet Factory Richmond, VA
CLIENT TESTIMONIALS
"Install went well and we love how everything turned out!!! It actually gives us more storage than I imagined. The material we chose is as close as you can get to matching our counter tops. The hinge works great. The height is great and the wrap around our baseboards and window trim could not be more spot on. Your installer pointed out areas that created a bit larger gap than the drawings showed but we knew our walls weren't perfectly straight, so he actually did a great job coming as close as possible to the wall as possible while still being able to open and close the hinge. We are very satisfied. When you can let's readdress the closet in the MBR again."
-Jennifer D
"Just wanted to follow-up and say everything ended up wonderful!  Thanks again for helping make this a true dream home. Appreciate your whole team. I know my wife is already planning the laundry room next but that waits on our stuff from storage.  Thank you again."
-Quayuay J.
"I wish we had done more. It's amazing how better-utilized space frees up so much room."
-Gail B.
"I can't begin to tell you how excited I am about my new closets.  I started putting a few things back yesterday and couldn't decide where to actually put things."
-Ms. Jackson
"Hi Christine, I have most pleased with my pantry and the closet island. David did an outstanding job in a timely manner. Very professional as he certainly knows what he is doing."
-Cheryl P – (Pantry and Closet Island).
"We are so excited about our closet design!  We appreciate so much that you really heard us and took to heart what we needed and delivered the most perfect design. The time you took with us and your good humor during the "putting the puzzle together" process made it a great experience for us."
-Linda Garrison – (Primary Closet)
"I just want to thank you for helping us with the closets. They are a game-changer for us. I love how they turned out. It was nice to have worked with you and Daniel."
-Naomi S.
"The closets are FABULOUS! I absolutely LOVE them! I feel like Carrie Bradshaw! Why didn't we do this any sooner? I couldn't be more pleased with the final product. Hieu and Mark are very knowledgeable in their skill and very speedy about it. Thank you for your wonderful design ideas, too! I was so surprised to see how tall the closets are, which I LOVE being a 6'0" tall woman. There is so much space for me to utilize! Now, I want to do more closets!"
-Heather P
"Diane you are a genius! The closet is even better than I imagined it would be.                                                                                                                                    All thanks to you. I may need to go shopping for more clothes 😊"
-Jan D.
"First of all Gail and I want to thank you for your design package based on our lifestyle. As you can see by our pictures there is not a wasted inch and we still have two open shelves. 
Your design package is excellent but the finished result is only as good as the installer. To say Mark did an excellent job is not giving him enough credit. He is by far the most meticulous trade person who has set foot in our home. Please let know how much we appreciate his craftsmanship. Thanks for putting an organized master closet in our home."
-Mike & Gail S.
"Wanted you to know that the installers were professional from the moment they entered our home until they departed."
-Edie S.
"Closet Factory recently installed our new laundry room organization system on November 9th and  my husband and I wanted  to let you know how happy we are with it!  We are so appreciative for all the hard work which our design consultant, Tasha Miller, put into this project.   She is amazing.  We started this process in July and I can't tell you how many tweaks I (not my husband..lol) made to the design over the course of a couple months.  Tasha was so patient throughout this process. She responded promptly to my emails and remained so friendly and personable throughout all our interactions.  In addition to all her efforts to work with us on the design,  we are also appreciative of her efforts to fulfill our needs within our budget. "
-Barbara and Jerry S.
Tasha's customer service is exemplary.  What a great representative for your company!   We will definitely consider Closet Factory for all our future organizational needs and recommend Closet Factory to our family and friends!
"I cannot thank you enough for the beautiful design. It truly is wonderful! We are just so excited!!!"
-Claire & Robert
"Thanks so much! Hieu is amazing! Y'all are very lucky to have him. I have seen so many contractors and subs in and out of our home in the last year and a half and his work ethic and attitude are unmatched! He took such great care to clean the space he was in and even replugged in a lamp he had to unplug to use an outlet. Meanwhile I have nails left everywhere and messes galore from the other subs…it was such a breath of fresh air to have someone like him in here. Y'all have been wonderful so thank you so much!"
-Bliss H.
"It looks amazing! Jim did a fantastic job!! We are very pleased with the results and began to fill it last night. I will send pics when it is full! We may end up adding to the garage at some point. I still need to see what we would like!"
-Debbie G.
"Good afternoon. Wanted to let you know that our closet is in and looks great. Enjoyed working with your installer, he was wonderful. Thanks for all your assistance with making a dream come true."
-Fitzgerald
"I just wanted to thank you personally for the wonderful job that you have done with the design and the total input that you had in making my daughter in law & my son new bedroom closet a total success and beautiful addition to their new home. I thank you also for the help and support to me getting it done so promptly and efficiently. You are the best. Job well done!"
-Christian C
"The closet installation is complete at my place. Want to thank you for the seamless process and the quality of work done. "
-Vikas G
"We were very pleased with all aspects of doing business with Closet Factory. A very efficient staff and excellent workmanship. Everything as scheduled. Many thanks. You will definitely hear from us when future needs arise."
-Connie H.
"Was very impressed with the skill of the installer and the appearance of the product. Georgia was extremely helpful with the design and selection of out products."
-Jan T.
"I wanted to thank you and your team for the closet installed in the addition that I just completed at my home. Cecelia created a great design and the installation was flawless. Kate, my wife, loves her new walk-in closet and that's what's important. I was impressed with every part of the process and if this is what our customers experience then I am pleased that our companies have partnered to offer your product. Thank you."
-Frank L.
"We couldn't be happier with our new closet — it's beautiful, efficient, well-made & seems twice as big! Our installer, Jim, was friendly & got it done in no time. We're really thrilled to have this first little corner of our house DONE. I may just go & sit in it when I'm stressed out about the rest of the house. Thank you so much for everything. We're absolutely thrilled."
-Terri (June 2020)
"The built-ins are fantastic! Thank you to you and George for bringing a bit of normalcy back during an interesting time in everyone lives." 
-Michelle (April 9, 2020)
"Cecelia, Will you pass it along to the owners how pleased we are with the installation at 9235 John Wickham Way. You really hit all the measurements perfectly! Your installers, Hieu and Alek are unbelievable. Professional, extremely well mannered and efficient.  Everything is looking so good. Can't wait to "play" with my closet's lol. I will be ordering and additional shelf or two, will let you know once I finish filling the shelves."
-Rosemarie and Chris (April 7, 2020)
"So pleased!! My husband said this is the first time a contractor did work that he didn't have 5 things to fix after they left. They will get filled this weekend!"
– Will (March 27. 2020)
"Thanks for your follow-up. It was extremely smooth and Hieu was very professional and thoughtful especially given the coronavirus and social distancing. I really love the design and the quality. I may want to add some drawers but will give it a test run for a few weeks."
-Kathy K (March 23, 2020)
"HomeMasons, Inc. has used Closet Factory on many remodeling and handyman jobs. They are a great family-owned friendly business with amazing customer service. The Closet Factory always is prompt in reply and accurate on quotes to help with our budget allocation and staying within that budget. They provide high end products at a great price."
– HomeMasons via Houzz
"Sue is a consummate professional! She made the closet design process simple with tried and true suggestions and the added visual reinforcement of computer graphics. A quick stop at the outstanding Closet Factory showroom and our conceptual design had color and texture detail that really helped with final selections. Sue also followed up with our builder and her installer the whole way!"
– Kate V. via Houzz
"My husband and I continue to be thrilled with all the work you completed at our home! We first contacted Closet Factory when we had the idea of converting a master closet into a laundry room. You not only helped us realize that vision, but redesigned our other master closet so we didn't lose any storage in the process. Next, your design of our pantry and kitchen cabinets, with both stationary and pull-out shelving, made our kitchen so much more functional. Best of all, you listened to my needs and created the perfect quilting and craft room! I appreciate the attention you gave to all the little details during each of the planning and design stages and the way you were present during each of the installations to make sure everything progressed seamlessly. My house is now not only extremely organized and highly functional – it's beautiful, too. You will be the first one we call when we are ready for our next project!"
– Deborah D. from Richmond, VA