Transform Your Walk-In Closet Into A Woman Cave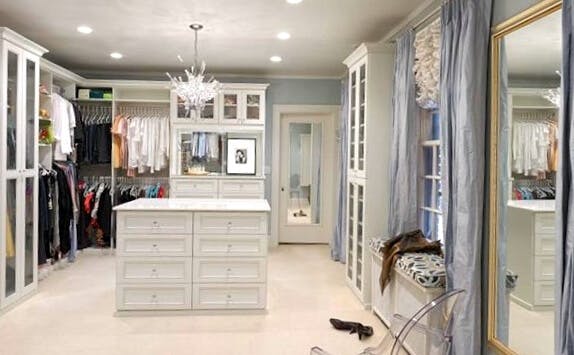 Hot on the heels of the man cave trend is of course, the woman cave. And, why not? A woman has always needed – as Virginia Woolf said – "A Room of One's Own." Relationship experts have long lauded personal spaces as a way for couples to maintain a healthy relationship. By having a place to retreat that's their own, studies have found conflicts and tensions between couples were more easily reduced.
Similar to its counterpart, a woman cave is a peaceful place where a woman can retreat to re-energize and do the things she loves whether it's a hobby, admiring a personal collection or simply do nothing at all.
Here are five essential items that a proper woman cave must have:
1 – A place to sit or rest: Since a woman goes to her cave to relax, it's necessary to have a comfortable place for her to lounge like a overstuffed chair or a chaise lounge where she can stretch out.
2 – A place for personal items: In her cave, a woman should be surrounded by all of her favorite things so there needs to be sufficient space for her to put things that have special meaning and make her feel good.
3 – A space for storage: Most women want more storage space especially when the rest of the house doesn't accommodate everything. Clutter has no place in a woman cave; here, only organization and order rule.
4 – A desk or area to do things you want: If she wants to read, write, paint or work on a project, a woman needs an area where she can do what her heart desires.
5 – A soothing atmosphere: Since a woman cave should be peaceful and serene, it's necessary that the décor is pleasing to the owner and makes her feel safe.
Not on the essential list but more of a given is that a woman cave must have room for your girlfriends to visit since it's no fun to have your own personal cave if you can't share it. However, if the man in your house has already claimed the garage or basement for his man cave and there are no more available rooms left, what's a girl to do?
Worry not; simply turn your walk-in closet into a woman cave. Functional and spacious, walk-in closets are the perfect places to transform into your special space since they already store many of your personal items and contain some of your favorite things. A custom closet designer can create a walk-in closet design that not only stores your clothes and shoes, but one that can also turn your closet into an oasis of peace.
Beautiful custom closet units are similar to fine furniture in that they add to the décor of any room – creating an atmosphere of beauty and comfort. You can also add personal touches like custom molding or a special finish so your closet system fits into your home's design. Because custom closet systems are made to efficiently take care of all your storage needs, in a walk-in closet, you can still have space left for a lounge or work area. Furnish it with decorative accent pieces like a unique lamp or rug and your walk-in closet instantly becomes any other well-designed room in your home.
Once you've turned your walk-in closet into your own personal woman cave, there's no way you can keep your girlfriends out. They will want to hang out in there and admire your shoe collection, and before you know it, they will be asking you for the name of your closet designer. With a custom closet design, your walk in closet becomes more than just a place for clothes, it becomes special place for the clothes' owner.