How To Organize Your Laundry Room – 10 Tips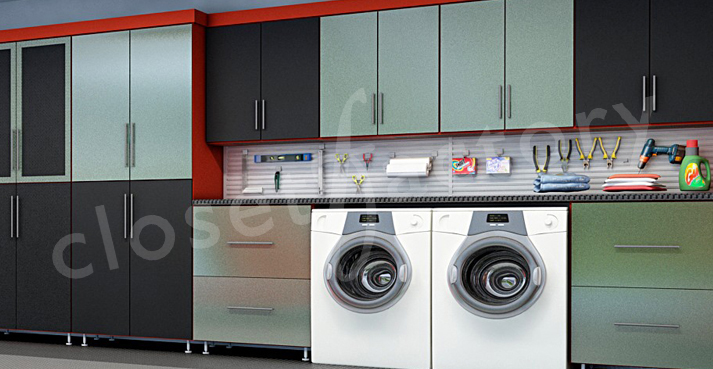 Some homeowners prefer their laundry area to be housed in the garage space.
Do you cringe at the very thought of the dreaded laundry day? Maybe your dirty clothing is constantly overflowing in a bin that is too small or outdated? Need more bins rather than having heaps on the floor? Are you finding that your home needs more space to sort, iron and fold clothing?  You may need more shelving for all the detergents, bleaches, water softeners, and pre-soak products.
Here are a few tips to make your laundry room organized and work for you.
Maximize your laundry space by using every available inch. That means using the space along side your appliances or in between. Also, don't forget about vertical space. It is overlooked the most.
Assign areas for sorting, folding, drying, and ironing.
Keep a small garbage can handy for emptying the lint from your dryer.
Store all detergents and frequently used items in open cabinets or shelves for quick and easy access.
Keep a container or basket in reach for stray socks.
Keep a container for odd items found in pockets also comes in handy.
If you purchase large quantities of detergent consider decanting them into smaller containers and storing the remainder until needed.
Consider space saving appliances, fold down ironing boards, movable clothes hampers and sorters, or hinged counters.
Conceal unsightly laundry detergent, cleaning supplies, and any other products that look like messy clutter in fronted cabinets. A hanging rod was added here to keep drying clothes neat. Baskets create additional storage to keep what's left out sorted and contained. Treat the laundry room as you would any other space by adding cheerful curtains.
Consider adding a custom storage island to keep large and unattractive laundry baskets off the floor. A storage island also doubles as a folding area for clothes coming right out of the dryer.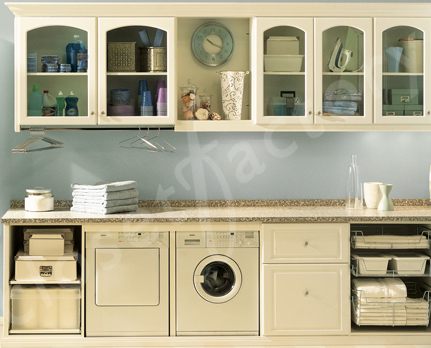 An organized laundry room complete with custom cabinetry, drawers, and a hanging rod.
"An overhead shelving or cabinet unit is a smart move to make, since it demands no floor space. The unit can either run the length of the area, covering both the washer and dryer as they sit side by side, or you can include a rod for hanging clothes fresh from the dryer or clothes from the washer that must drip-dry. A system for presorting dirty clothes, such as wire baskets, can be a big aid during the week and on laundry day. An extra touch is the addition of countertop work space above the baskets, which supplies an excellent place for folding clothes, removing spots and stains, and compiling clean clothes for distribution throughout your home." – Sloan Schmidtke of Southern Living
No matter the size of your space, Closet Factory offers custom laundry room solutions including built in wall units, counter tops, shelving, pull out baskets, and fold down or hidden ironing boards. A custom built laundry organizing system is really the best way to make the dreaded laundry day more productive.
Contact Closet Factory today and request a free design consultation.  A professional designer will work with you and design a storage solution to create a laundry space that will eliminate the clutter and ease your laundry day hassle.
Content Influences: