How To Make A Home Office Design Work For Two People
Not everyone has the luxury of space, and that forces people to make compromises when deciding on a home office design.
An office space should feel personal and tailored to the needs of the person, whether it's through more filing cabinets and drawers for those who work with multiple documents, or a movable computer monitor stand for those who need to move around the room to get their creative juices flowing.
However, when two people are in the picture, it becomes a whole new game. Now you have to worry about incorporating two workflows into one office while simultaneously making sure one doesn't hinder or overpower the other. In addition, space is already at a premium, making the whole process seem like a nightmare.
Luckily, where there's a problem, there's always a solution. No matter what size the space, it can be transformed into a home office design where two people can enjoy peaceful productivity. The following tips will guide you in your quest to create a productive office perfect for a duo.
Invest in a lengthy desk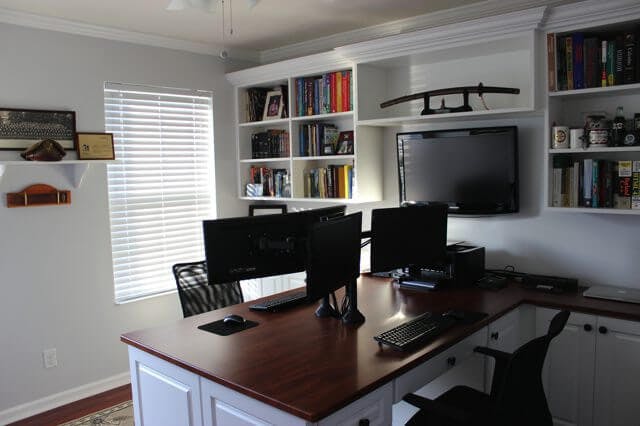 A lengthy desk is an absolute necessity if you have any thought of sharing an office space with another person. Whether you plan to sit across from or next to that person, a wide desk ensures that both people will have adequate space for their computers or materials.
Create a parallel home office design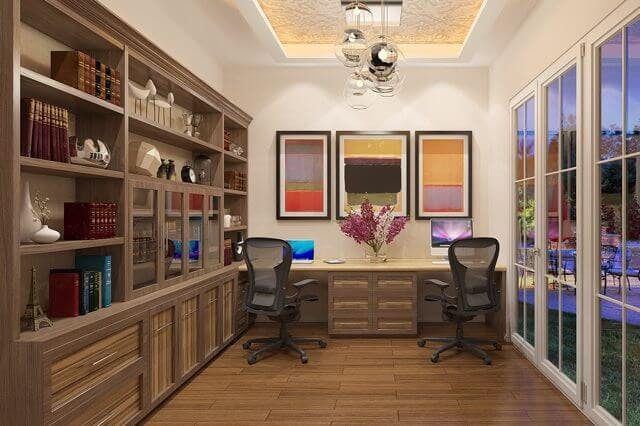 If you purchase a lamp, it's best to have another one just like it. If you have a shelving unit, add another one or center the shelving unit between the two seating areas. Of course there's no need to purchasing matching monitors or computers, but there should be some semblance of continuity in the office.
For small spaces, use the "L" configuration
If your home office is situated in a small space, a lengthy desk probably won't be the best option for you. In this case, you'll want to invest in two desks of moderate length and connect them together in an L shape (like the Tetris block). Not only is this setup somewhat intimate, it maximizes space for other things such as a shared wireless printer.
For a sense of privacy, use the "T" configuration
Believe it or not, you can make your section of a shared home office design feel like your very own. A popular configuration is known as the T configuration (another Tetris block!) where the seating area is separated by a center shared desk divider. This divider has the subtle ability to make a shared office look like two separate offices without too much compromise.
What are your ideas for sharing a home office? Let us know in the comments section below!
Transform the way you work from home with an office that's been designed around you. Find out more.