Inspiring Walk-In Closet Designs For Shoe Enthusiasts
People who tend to love shoes really LOVE shoes, and often need an entire walk-in closet to dedicate to their collection. Women, especially, can't ever seem to part with their pairs, even when faced with a shoe storage dilemma.
Lack of shoe storage is turning out to be a big problem, as women not only want extra space to keep their shoes somewhere but also to admire their purchases from time to time.
As a result, more and more people are turning to custom closet systems to fulfill their needs, and some of their designs for the perfect shoe storage are quite stunning to say the least. Today, we'll take a look at five custom closet designs that are sure to inspire you to create a custom shoe storage closet of your own.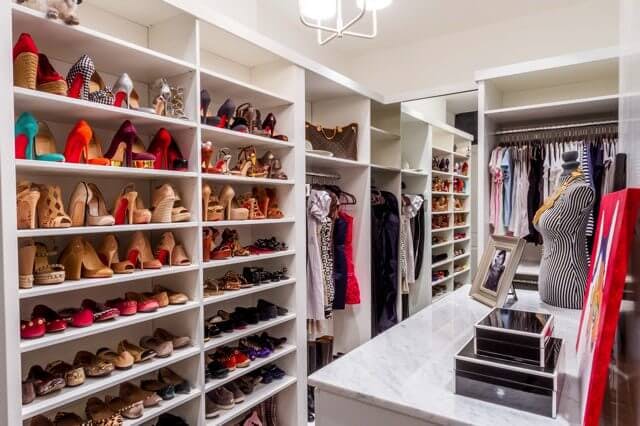 This white melamine walk-in closet keeps things simple yet beautiful with multiple rows of shoe storage, with each one able to accommodate four pairs of shoes. This is due to the perfect spacing between each shelf. In addition, the closet features an eye-catching center dresser with a quartz countertop for jewelry and other accessories. Not to mention, the white melamine system blends perfectly with the overall simplistic white color scheme of the room. Sometimes simplicity is the best choice.
This next design is a beautiful walk-in closet done by the good folks over at Closet Factory Houston. Similar to the first closet, this one is another white melamine system but this one features slanted shoe shelves and lucite toe stoppers that allow you to see more of your shoes. The client had two sections, each with ten shoe shelves and then two more sections that each had twelve shoe shelves. There's also a magnificent center island with a pearl countertop that features a convenient center slot for storing perfume and fragrances.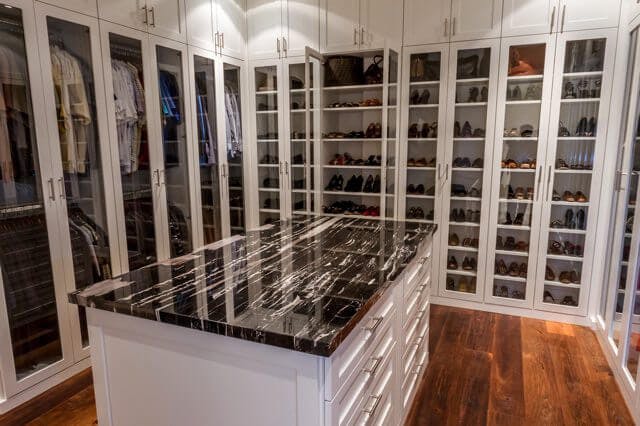 Those who want to admire their shoes but also need protection should be happy to know that they can get both in a closet such as this streamlined white melamine system. All facets of the room are surrounded by glass doors and handles, each allowing for the client to preview the goodies inside without ever having to open the door. Notice how the shoes are nestled safely and comfortably in each shelf, each pair easily within arm's reach for anyone over five feet. This closet also incorporates cabinets above the door for storing whatever you like! Oh, and let's not forgot about that center island with the stained marble countertop.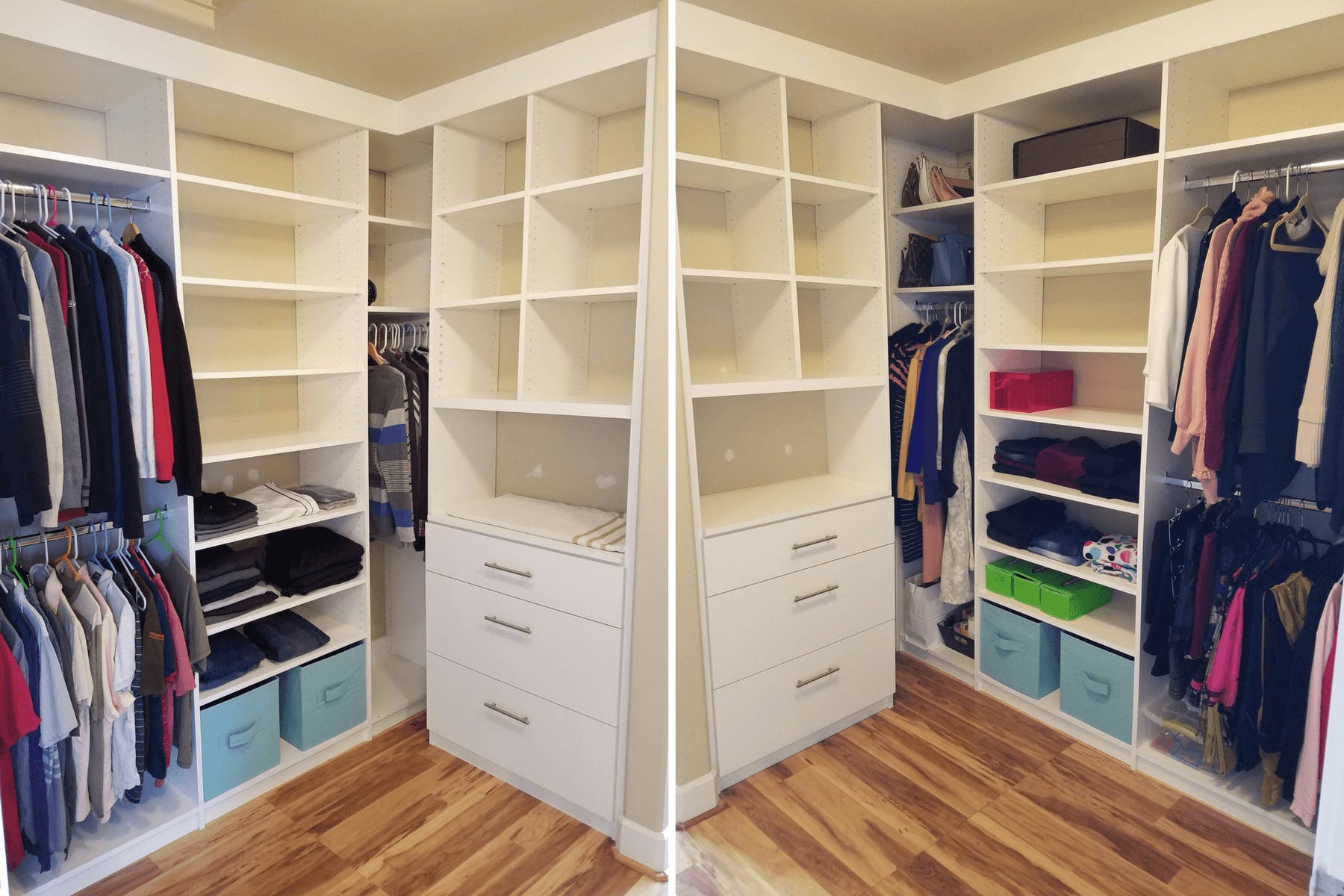 Lastly, we have this fully functional black maple melamine walk-in closet. If you haven't noticed already, this closet just screams shoes. If you take a look at the corners of the room, you'll notice that this client had corner compartments designed for her closet so not a single inch of space was compromised. What's more eye popping is this client's center island, which breaks away from traditional center islands by making it extra shoe storage space with storage compartments surrounding all sides of the island. Each shoe shelf is also accessorized with steel toe stoppers.
Which one of these shoe closets was your favorite? Leave a comment in the comments section below!
Transform your closet space with a design that's been customized around your wardrobe and shoe collection. Find out more.