Declutter Your Closet: The Best Charities For Donated Clothing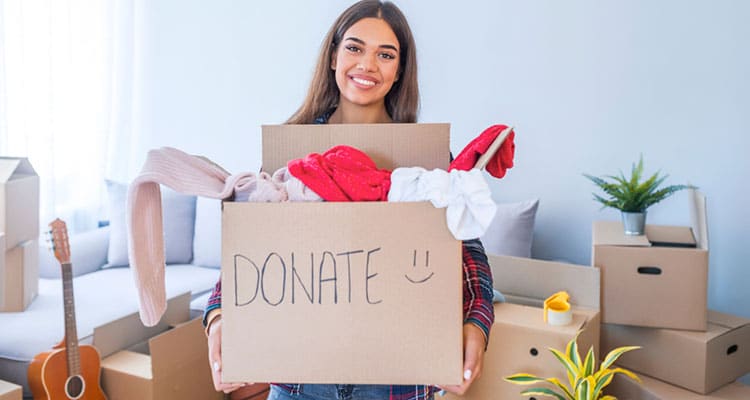 Organizations Accepting Wardrobe Donations
Every so often we all need to declutter our closets. Whether you are completely overhauling it to prepare for a custom closet system or simply reorganizing to create additional hanging space, chances are you have some wardrobe items you don't need. Departing with your clothing can be tough as you don't want to feel as if your items are going to waste. While you have a few options, donating your clothing items to charity is the best course of action as it gives you the peace of mind knowing that your clothes are making a real impact in the world.
With that said, it can be a little overwhelming in choosing which organizations to donate to. The trick is to choose a charity that directly corresponds to what type of clothing you are donating and what causes you feel most strongly about. To help you out, here are nine organizations that will make sure your clothes will have a significant impact on somebody's life.
9 Popular Charities To Donate Clothing, Shoes, and Wardrobe Accessories:
Goodwill: Chances are a Goodwill will be in your area for you to easily drop off your clothes too. Your donations will help people with barriers to opportunity to find employment.
Green Drop: This organization is great for those who have many clothing items to donate and want them to be picked up. Proceeds from your donations will go directly to the American Red Cross, the Military Order of the Purple Heart, the National Freedom of the Blind, and the Society of St. Vincent de Paul of Philadelphia.
Soles4Souls: As the name suggests, Soles4Souls sends donated shoes to people in need. Since its inception in 2006, they've distributed over 35 million pairs of shoes in 127 countries.
Indigo Rescue: If you have jewelry to donate, Indigo Rescue uses your donations to fund animal shelters in their never-ending battle of saving abandoned animals. You can easily send your jewelry through the mail to their address.
Salvation Army: Like Goodwill, chances are a Salvation Army donation center is located near you and will accept just about anything you want to donate. The Salvation Army does a lot of work for communities including operating shelters for the homeless and disaster relief and humanitarian aid for developing countries.
Dress for Success: With national affiliates all over the U.S., this is the perfect place to take all your work clothes and shoes that you no longer wear. Their philosophy is to promote self-confidence and economic independence for disadvantaged women by providing professional attire, mentor support, and career development training. The organization distributes your donations to disadvantaged women who need business outfits for job interviews.
Career Gear: This charity does for men what Dress for Success does for women. They provide professional clothing, mentoring and life-skills to help low-income men get the clothing and toiletries they need for job interviews. There are several locations on the East Coast and in various parts of the Southern U.S.
Big Brother Big Sister Foundation: This foundation accepts any type of clothing in good condition and all donations go to the foundation's resale stores. 100% of the proceeds benefit the charity which pairs adult mentors with at-risk kids. You can even schedule a pickup online and they will come get your donation.
Vietnam Veterans of America: This national non-profit provides support and services for all military veterans returning home after serving and aid for homeless and disabled vets. They accept all types of clothing, shoes, and accessories in good condition for children and adults. Then they sell the donated items in their resale shops with the proceeds going directly to the VVA. They will also come and pick up your donation, which you can schedule online.
As you can see, there are many places to find good homes for the clothing you no longer have a use for. Decluttering your wardrobe closet not only helps your closet become clean and organized, but your donations can make a real difference in the world.
If you need help in deciding which items to get rid of, making an inventory checklist is great for knowing exactly what you have and more importantly, what you can donate. This makes it much easier in getting rid of items that are truly unneeded. Our guide on inventory checklists will help you get started with everything you need to know.
Of course, don't forget to go to our Closet Factory blog for more tips on how to live a life free of clutter.