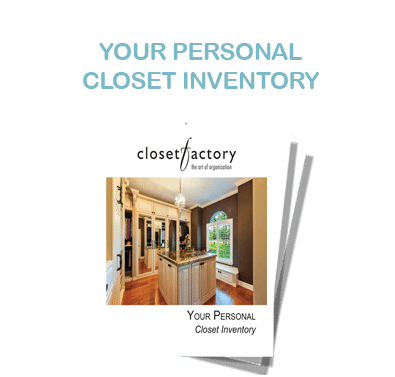 About This Guide
The only way to truly organize your closet is to conduct a thorough closet inventory. Whether you have a master walk-in closet, a small reach-in closet, or something in between, figuring out exactly what you have inside your closet can go a long way toward creating closet organization. After all, determining what to keep, what to toss/donate, and what may need to be purchased is really what closet inventory is all about.
To help you create closet organization, Closet Factory has created a simple but complete "Closet Inventory Guide."
However, before you begin to perform your own closet inventory, it might be a good idea to consider the benefits of creating an organized closet.
Here are Five Reasons why performing a closet inventory is a good idea:
An organized closet helps create clarity and helps you start each morning with a positive attitude. When you can make easily make a clothing decision you will be happy and avoid the chaos and stress of trying to find the right outfit.
An organized closet can be leveraged for increased storage capacity
An organized closet is a great place of serenity. Many women use their closets as a place to call our own and for some women, the closet can be their happy place!
An organized closet can save your money by avoiding making duplicate purchases for shoes, clothes, belts and scarves that you don't need.
An organized closet can increase your self-esteem! You will look better because your clothing will be more organized and you will be dressing with confidence.
Closet Factory's "Closet Inventory Guide" creates a simple strategy for itemizing specific garment items typically found in most people's closets. The first page of the inventory sheet helps you break down your wardrobe by hanging sections. For example, there a section for counting how many long hanging clothes (measuring 39" or less in vertical length) you have. Then there is a similar section for counting your medium hanging garments (measuring between 39" and 54"), and then there is a section for itemizing your long hanging garments (measuring over 54" in vertical length).
The second sheet is organized for you to inventory your non-hanging items. These items include folded garments, non-folded garments, items on shelves, and even items on hooks.
Click below to download your guide!