Wallpaper Adds Glamour to Your Custom Closet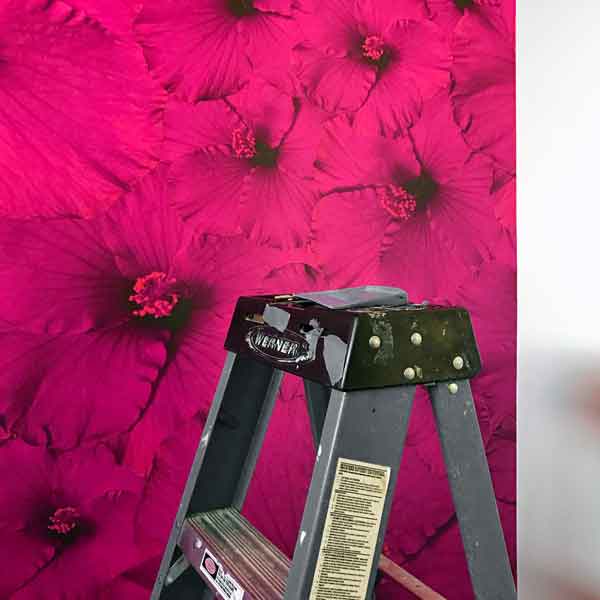 Custom closets are becoming more elaborate and customized every day, which is why many people have started adding wallpaper to their custom closets to help create an additional layer of glamour and personalization. As a result, beautiful wallpaper hangs inside large walk-in closets across the country, and is becoming one of the hottest trends taking place in the world of luxury interior design. Unlike the wallpaper patterns of the 1950's, today's prints are dramatically oversized and fantastically whimsical, with characters and patterns that are straight from the fashion runway. The colors are richer, and the fabrics are textured, sometimes in three-dimensional form. One of the reasons wallpaper is making a comeback for custom closets is that it provides more impact than paint, allowing designers to use the technique as contemporary art.
I think people are finding there is value in dynamic wallpaper. Dynamic wallpaper can really pack a punch for not a ton of money,"  Don Flood, artist.
Don Flood is an expert at designing wallpaper for people's homes. He is the founder of Fliepaper.com, a wallpaper company that creates sophisticated paper designs that he describes as a "textural symphony of color and design with an emphasis on scale." Don's wallpaper designs range from immense florals and bold textures to quirky, unexpected found objects.
While Don's clients include well-known celebrities and wealthy patrons, he is working more and more with not-so-famous homeowners who want to use his custom wallpaper designs to make personal statements in bedrooms, studies, living rooms and custom closets.
"I think people are finding there is value in dynamic wallpaper. Dynamic wallpaper can really pack a punch for not a ton of money," said Flood. "I think wallpaper is not just an alternative to paint, it is an alternative to art and other wall decorations. There is so much creativity in wallpaper these days because of technology and the ability to print wider and larger and with more definition," said Don.
According to Don, wallpaper works especially well in large walk-in closets for a couple of reasons. First, because closet systems don't always include backing, the wall behind the closet system can be enhanced by using elegant wallpaper. Another way to use wallpaper in walk-in closets is to hang it from a single, accent wall. This can be an elegant solution for creating personalized statement that won't compete with an elaborate closet design, center island, or even seating area.
Recently, Closet Factory created a large, straight forward white melamine closet system for actress Bella Thorne. Closet Factory called in Don to add a little punch to the young star's custom closet space.
Using the Fifth Wall for Real Wallpaper Drama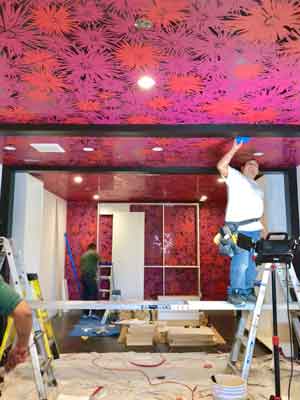 One of the ways Dan was able to make a big impact on Bella's custom walk-in closet was to use the ceiling as a fifth wall for his custom wallpaper design.
"When I first saw her closet, I immediately noticed there was this big, gaping white ceiling, so I decided to add the paper to the ceiling and another visible wall. I think wallpaper can be used on a single wall or it can be used to make the space a little bit more moving; taking a wall from a neutral to real feature. Using the ceiling in Bella's closet for her wallpaper was a really good choice," said Don.
By Vincent Aviani