Custom Closet Design Trends: Hollywood Regency Style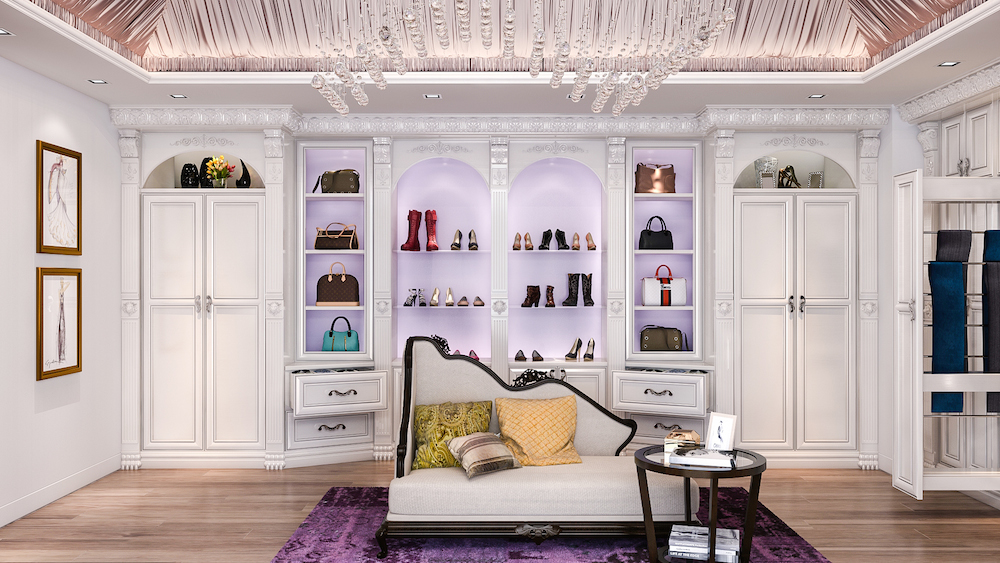 Do you worship Kelly Wearstler and swoon at the first sight of custom closets and antique gold? Hollywood regency interior style has been gaining steam in recent years, harkening back to the silver screen sirens of the '20s and '30s. The custom style originated in closet organizers during the early nineteenth century, though recently we've seen a large resurgence among celebrities and home organization design tastemakers. The style incorporates both old and new pieces, and works well for anyone wanting to indulge their glamorous side.
Here at Closet Factory we think this style can perfectly accent a custom closet, even if the remainder of your house doesn't live up to the glitz and glamour. Perhaps velvet and metallic are too much for your dining room and kitchen, but your closet is a personal oasis, often unseen by most houseguests. Take this room as an opportunity to go wild with color and detailing while you scale back in the other rooms.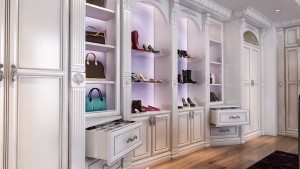 There are several tricks of the trade that you need to consider when mastering the Hollywood regency style in your closet organizer. Lacquer is a quick and easy way to achieve the look. Whether it's black, white, or bright turqoise, grab some shiny paint and get to work on your furniture. And speaking of furniture, keep it small, in proportion, and with an ultra-feminine touch. Chairs and sofas are meant to read as ornate, but not make a massive visual impact, with smooth curved lines and a small stature.
In terms of upholstery, colors are used generously and patterns are mixed with abandon. Pillows, chairs, and wallpaper all offer a welcome palette for patterns, from floral to loud graphic prints. Top off the custom closet with a chandelier combined with an oversized, ornate mirror or larger-than-life portrait to give a literal nod to the old Hollywood starlets. Keep clutter to a minimum, which obviously is our expertise, and voila, you've transformed your closet organizer to that of a movie star.