How Closet Factory Made Ashley Hafstead A Closet Space Fit For A Queen
Listen to how Ashley's life was made simpler and more elegant after working with the Closet Factory on her new closet!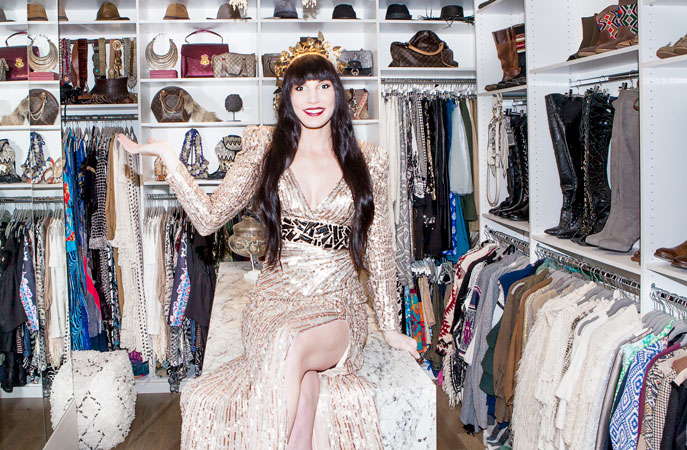 Ashley Hafstead loves to practice her ABC's: Art, Beauty, and Closet bliss. The Washington D.C. based professional photographer and style blogger (check out her blog: CHICVILLEUSA), considers her closet not just a place to hang her extensive wardrobe. For Ashley, her closet is a retreat where she can admire her coveted curated collection of clothes as if she were in a fine boutique. Her closet is also the place where she is inspired to create new styles on a daily basis.
"I've always had a deep love affair with fashion since I was young. I remember my mom always had the most amazing closet, and since that day I always tried to have my own amazing closet," said Ashley.
However, somewhere along the line, her elegant and eclectic wardrobe started to burst from the walls of her walk-in closet. She knew it was time to create a space that was fitting her one-of-a-kind wardrobe, and so she called designer, Deb Broockerd from the Closet Factory's Northern Virginia, Washington D.C., and Maryland office to help her transform a spare bedroom into a gorgeous dressing room and apparel sanctuary. Ashley was so excited for the transition, she jump-started t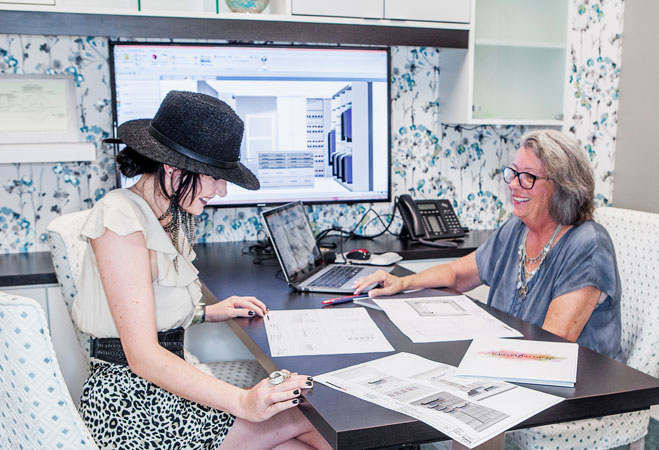 he designing process by conducting her own inventory of exactly how many clothes she owned.
"Deb from the D.C. Closet Factory was just beyond incredible. I was kind of a tough customer because she actually said she had never seen anybody that had so many accessories as I had. I'll never forget the first day she came over. I actually did my own inventory list of my closet. So I knew that I owned 67 hats; I knew I owned 137 rings, and I owned 72 sweaters. I did this before she got there. I'll never forget the moment when she was going over my inventory list and she was saying, "No. Wait. How many bags do you have?"
The collaboration between the two produced a detailed design that emphasized clean, white melamine hanging space with drawers that had clear, Lucite pulls so that Ashley's clothes and unique style would be highlighted. The entire process made Ashley feel that she had a true designing partner throughout the entire process.
"She and I laughed and had such a good time. And she had a 3D rendering at her showroom. She held my hand through the whole thing and made me feel at ease. I still have to pinch myself," said Ashley
Some Of The Benefits Ashley's New Closet Provides Her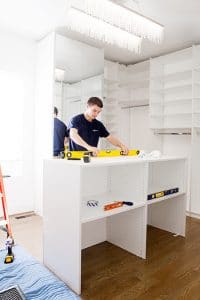 She formed a great collaborative friendship with her Closet Factory designer.
She is now able to easily pack for one of her exotic trips because she can see all of her clothing, scarves, and jewlery in one place.
She found a new way to store her extensive collection of over-the-kneed boots.
She can easily create more new style designs and wardrobe combinations with her closet valet rods.
She feels so exhilarated and creative with her entire collection of curated clothes all in one beautiful place.
She can showoff  her entire collection of jewelry in her Namibian Ruby granite capped island.
How The Closet Factory Created A Treasure Island For Ashley:
According to Ashley, the best part of her new closet design was a large island that floats in middle o
f the room. The island is capped with Namibian granite that waterfalls, and is the centerpiece for her extensive jewelry collection.
"I've always had a deep love affair with fashion since I was young. I remember my mom always had
the most amazing closet, and since that day I always tried to have my own amazing closet," said Ashley.
"I have to say my favorite part of my close is my island. The way she designed my island to house all of my jewelry is just this amazing. It's a massive jewelry box. I mean you open the drawers that are 22 inches deep, and they're lined with this incredible black velvet and each piece stands out. It's my favorite thing for sure," said Ashley.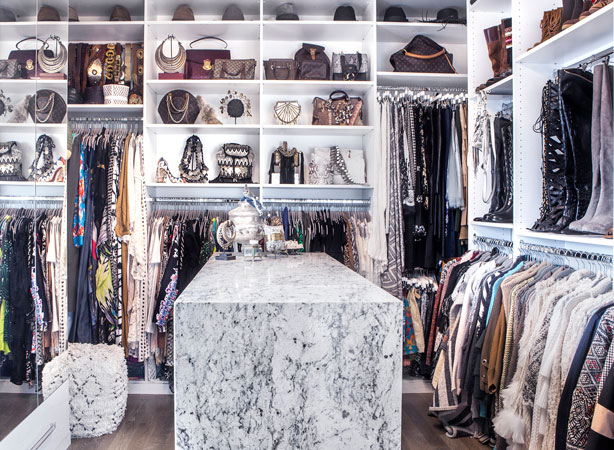 Ashley's designer also provided great strategies for storing some of Ashley's most prized boots and scarfs.
"Also, I have a large collection of over-the-knee boots, and the designer came up with this incredible way of storing them so they keep their shape. She designed these amazing nooks with boot hangers so I can hang all of my over-the-knee boots," said Ashley. "It's little things like that that really took my closet over the top."
Now, when Ashley walks into her closet, she feels like she is stepping into her own private boutique that is organized and coordinated for her specific needs and lifestyle.
"My new closet has changed the way I can take care of my clothing. Now I can properly take care of the clothes that I have invested in. And all of my clothes have roomto breathe. It's incredible," said Ashley.
by Vincent Aviani
Check-out how Closet Factory also helped mother-of-three and DIYer, Merrick White, and Hollywood Actress, Daniella Monet discover closet bliss.