Closet Factory Celebrates with Habitat for Humanity at Annual Builders Ball
On Thursday, Habitat for Humanity of Greater Los Angeles (Habitat LA) held its annual Los Angeles Builders Ball at the Beverly Wilshire Hotel. Kathryn LaBarbera, President of Closet Factory, and Dan Grandon, President of Closet Factory Franchise Corporation, were on hand to celebrate as the organization raised roughly $800,000 to revitalize distressed communities throughout the city.
The funds raised will go towards Habitat LA's 'Building a Greater Los Angeles' campaign, which will provide hope for low-income families currently living in sub-standard housing.
"We started working with Habitat LA just last month," says Kathryn LaBarbera. "As a custom company, we end up with a lot of leftover materials, and often times unused accessories from our vendors. We were able to donate 6,500 lbs of new product to ReStore, a division of Habitat for Humanity that helps fund their homebuilding projects."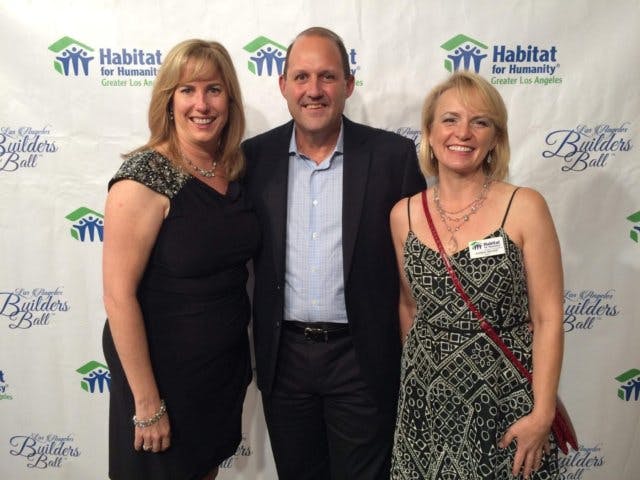 Kathryn LaBarbera (left) standing with Dan Grandon (center) and Karen Moore from Habitat LA (right)
Habitat LA's housing services provide opportunities for families to become homeowners and create a stable foundation to raise their children. Since being founded in 1990, Habitat has built, renovated or repaired more than 700 homes, helping transform the lives of more than 4,000 people.
"This has been the perfect partnership for us," explains Dan Grandon. "Habitat for Humanity's vision is to help create a world where everyone has a decent home to live in, and Closet Factory is a major player in the home improvement business. The Builders Ball is just another example of communities and businesses coming together to have some fun and support each other."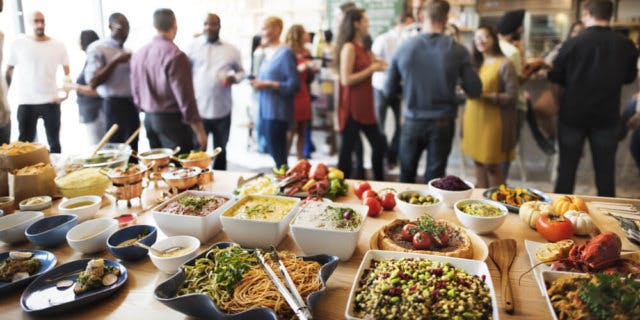 The Builder's Ball kicked off with a cocktail reception, followed by dinner and a live auction. A Prince Tribute Band, consisting of actual former Prince band members, headlined the evening's festivities, performing such classics as 'Purple Rain' and '1999'.
All proceeds raised were donated to support Habitat LA's work revitalizing neighborhoods and increasing access to affordable homeownership.
Over the next four years, Habitat LA plans to invest an additional $100 million in underdeveloped communities throughout the Los Angeles area. The investment will help strengthen local economies and create healthier and safer neighborhoods for hard-working, blue-collar families.
Another heartwarming story of custom closets designed for a military hero. Find out more.