10 Tips To Get Your Closet or Pantry Organized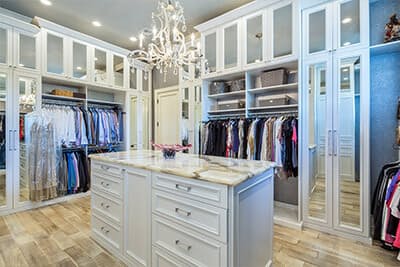 At Closet Factory, every custom storage designer will start with a conversation because the more they know about the way you use your closet space, the happier you'll be with the finished product. From there, they will share with you all the options available for your space. This makes your custom storage design more personal, and creates a tailored custom closet solution built just for you. Next, they will take precise measurements and inventory so the forthcoming closet project can be built to maximize your space and needs. Here are the top 10 must follow "Get Organized" tips for your closet. The first and last step on the tips list is up to you!
Sort and purge. This may be the hardest action to take, but the most important. If you go about it with a system it will be easier. There are many ideas to choose from. For example, the three box system. One labeled "Keep", the second labeled "Donate" and the third labeled "Throw Away".
Take an inventory. Again, use a system. Just as if you were to take an inventory at a warehouse. Make sure to write everything down. How many inches of long garments do you have? Short hanging? Shoes? Folded stacks, etc… When you truly know what you have, only then can you appropriately space plan.
Determine the accessibility each item should have. I.e. if you're storing an evening gown in a daily use area, consider moving it to a different room all together ( unless of course, you wear evening gowns on a regular basis).
Adjust inventory for items that do not need "daily use" storage.
Decide what you want to see and what you want to hide. This step is crucial to the outcome of space planning and the way the closet will function for you.
Work with the items you want to see first. What is the most logical placement for you? Do you pick the top or the bottom of an outfit first? If it's the top, place them just inside the door, and work from there, ending in the back of the closet.
Be sure to keep like things with like things.
Accessories need to be given special consideration because of there size. Smaller items get lost the fastest.
Please your senses! If your space is comfortable and soothing to you, it will give you a sense of accomplishment and order.  Yes, even a sense of control. And the effect is surprising. Trust me; it's not just a closet.
Re-evaluate. Now that you're organized don't forget to re-evaluate your inventory about every six months so that you stay that way!
Get a FREE custom closet design consultation and learn how a good closet organization system can save you time and headache. Download your very own Personal Closet Inventory Worksheet and browse our project gallery for some inspiring ideas.
Written by Tami Sullivan – Closet Factory Virginia Beach