Closet Factory Stamford Designs Custom Closets and Organizers
We Are a Custom Home Organization Solution For Adding Closet Organizers, Home Offices, Garage Cabinets and Pretty Much Systems For Any Area In the Home. We Come Out and Colaborate With You One a Design Based On Budget and Needs.
Design and Storage Solutions
Closet Factory Connecticut is a custom and client-oriented business, striving to meet every specific and unique needs of everyone we work with. We have years of experience creating custom storage and design solutions for all areas of your home, whether it's a cozy family condominium, high-tech modern loft, home office, garage storage, laundry unit, or even something much more complicated. We understand what value is and the benefits our closet organizers offer to our clients. We know that once you own a custom closet you will never want to live in a home or condo without one.
Our goal is to exceed our clients' expectations while delivering high-quality designs and outstanding customer service within a budget they feel comfortable with.
We also know that we will work hard to earn your business because it's very important to us that you are completely satisfied with every product you own.
Serving the counties of:
Fairfield CT
Middlesex CT
New Haven CT
Westchester NY
Dutchess NY
Putnam NY
Custom Organization Systems
We design, manufacture, and install custom:
walk-in closets
reach-in closets
garage organizers
entertainment centers
kitchen pantries
bookshelves
wall beds
and more
Everything we offer is designed and manufactured locally and is installed by our team of experienced professionals.
FREE in-home consultations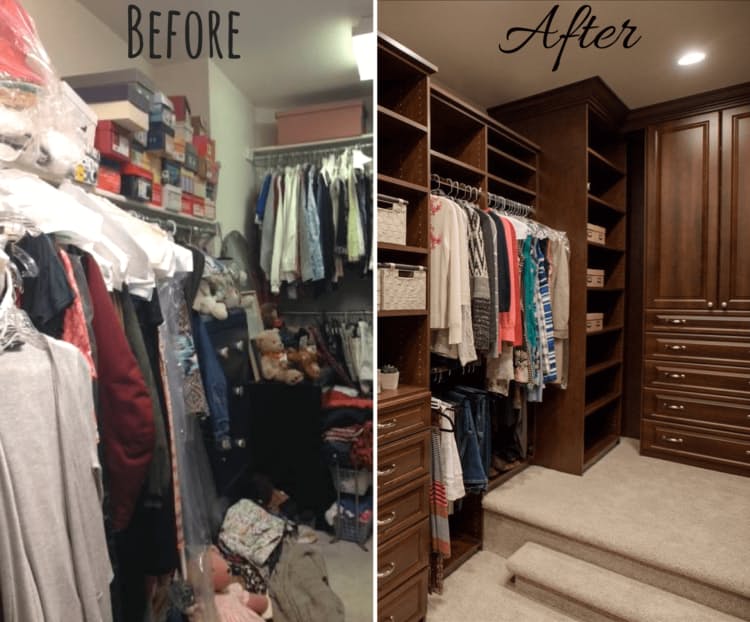 Closet Design
One of our Closet Factory designers will measure your space during a FREE in-home consultation, inventory your storage needs – from measuring dresses and pants to counting pairs of shoes – and then walk you through creating the perfect system of organization. This collaborative design process results in a space that's been 100% customized to your needs, stylistic tastes, and even budget!
Our team of dedicated professionals continually provides excellent results when it comes to designing and customizing storage solutions, accommodating even the most sophisticated aesthetic preferences and distinct tastes.
Why Closet Factory
Choosing Closet Factory Connecticut, you can be sure you'll have your project designed professionally from the finest durable materials. We will help you organize, systemize, and customize your home or office in any style, any layout, with the intent to reflect your specific requests – from highlighting certain personal items to freeing up some living space.
We welcome you to schedule a FREE in-home consultation, or to visit our showroom, where you can experience our top designs, featured items, and styles first-hand.
We look forward to helping you organize your home!
Nazar & Nataliya Bryksa
Owners
Closet Factory Connecticut
CLIENT TESTIMONIALS
"Fantastic job!"
– Kerwyn Clouden
"I truly could not be happier! Everything is so organized and it all looks great. Scott and Rob were very professional and also very nice to work with. I will definitely refer you to my friends and family!"
– Holly Lapine
"Everything was great! The installation was quick and looks terrific. Very professional and awesome work!"
– Susanne Teitell
"My experience with Nataliya at Closet Factory was great. They responded quickly to my request for consultation and arranged to come to my house sooner when I mentioned there was some urgency to get the project completed. Nataliya was easy to work with, she was very knowledgeable, efficient, and patient walking me through the options. Installation was smooth and the work was completed ahead of schedule. I would definitely recommend."
-Marisa Galiber
"The master bedroom closet looks beautiful and exactly the way I had visualized it. It was a pleasure working with everyone at the Closet Factory from the designer to the installation team."
-Heike Schneider
"I was not a hundred percent convinced when I made the appointment online. But since my first meeting with Carol, the designer and all the way through to the installation it's been so hassle free. I am quite pleased with the finished product. I am so glad I did not go with IKEA and the task rabbit as that had caused me so much pain and aggravation in the past. I appreciate Carol taking the time to adjust the design to keep the closet in my budget and still allowing me to get what I wanted. The installation service is impeccable. I would definitely use the closet factory again. The quality is good, hence it's not cheap, and the lifetime warranty says it all!"
-Kavetha Lotus
"We worked with Carol K. and she was fabulous! We sat down at a coffee shop to design closets that fit our needs. And as we inquired about something, she did on the spot adjustments. Very flexible and knowledgeable. We asked for pricing which she was honest and fair about. We placed our order and where happy with the installation. The two gentleman that came out were very courteous and professional. They put down cloths to protect our new floors. Quick and efficient that they were done by early afternoon. The final product was better than the drawings. I can't wait to have them back for my next order!!"
-Corolina Pulido
"Thank you for the wonderful service and product. We are very happy with the finished product. We will refer to you if we have any friends in need of closet renovations!"
-Carolyn C
"The install crew were excellent. Very professional and neat. Highly recommend." 
-Kevin C.
"Excellent installer: a pleasure to work with.  Segundo's work is beautiful."
-Steve and Natalie P
"Excellent installation. Excellent service"
-Toni L