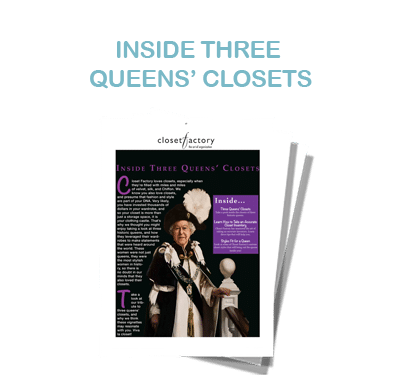 About This Guide
There is nothing more beautiful than a queen's luxury closet. These types of closets pay homage to style, fashion and beauty. Over the past three decades, Closet Factory has created thousands of closets that look like a queen's luxury closet for many of our clients across the country. That's why we have a deep appreciation for elegant spaces that resemble the queen's luxury closet because it reflects the personality and lifestyle of the owner.
The closets of queens are especially fascinating, and have been the focal point of historians for generations. Royal closets are fortresses that guard priceless heirlooms, and vaults that protect the most secret weapon of all: a queen's wardrobe, and make no mistake about it, a queen's luxury closet is as significant as her crown. Is it any wonder we are fascinated with these royal closets?
To help you understand how close a queen and her closet really are, Closet Factory has put together a fun guidebook called "A Look Inside Three Queens' Closets" where we highlight three historic queens of fashion. Inside this guidebook, you will be able to look at how these powerful women used clothing, fashion, and their closets to help reign over their kingdoms. Also inside this guide you find a closet inventory guide that will help you better organize your closet.
Please download our special section "Three Queens' Closets" where you will learn more about the styles of the following three queens:
Cleopatra, Queen of Egypt
As the Queen of Egypt, Cleopatra used clothes and accessories to express her power and wealth. To offset her milk and honey-bathed white skin, Cleopatra loved to wear raven-black wigs that were accentuated with piles of gold, all symbolizing her wealth and royal blood.
Margrethe II, Queen of Denmark
One of the most the most intellectual queens ever to reign, the Queen of Denmark was educated at Cambridge University and the Sorbonne, and speaks five languages. She is also one of the most creative queens in history. She's an illustrator, a well-known painter, and a dabbler in graphic design. She is also a clothing designer, having designed lots of costumes and set designs for both the stage and the screen.
Elizabeth II, Queen of England
The Queen of England has always used fashion to communicate subtle symbolism. She has been genius in her use of small slices of color, or nuanced, metaphoric symbolism somewhere in her clothes. Her coronation dress, for example, gave recognition to her kingdom as gleaming English roses, Scottish thistles, Welsh leeks, and Irish shamrocks, all mingled with Canadian maple leaves, New Zealand silver ferns Australian wattles, and South African protea.
Click below to download your guide!