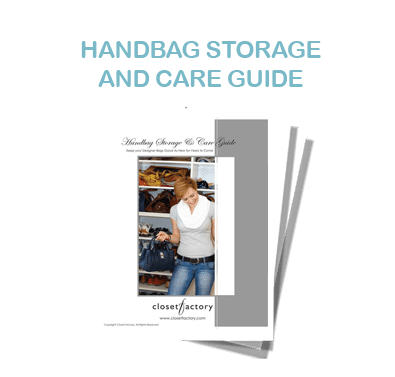 About This Guide
When it comes to shopping, the handbag is one of the most important items for many women. Why is this? Well, for one reason, many women are willing to spend hundreds if not thousands of dollars on purchasing a beautiful designer handbag when they wouldn't think of spending that much money on shoes, hats, or even dresses. Because handbags are such an important ingredient for many women, Closet Factory teamed up with Sheila Augustine Bartol, designer and owner of Mia Cotone Handbag Dust covers to create our guidebook called, "Handbag Storage & Care Guide."
Inside this helpful guidebook, Sheila provides some great ideas on how to store your purses and clutches, including the following8
Make sure you loosely stuff your purse with bubble wrap, not tissue paper, when not in use. The reason is that tissue paper actually attracts moths.
For long-term storage, undo the strap buckles to that you don't make impressions in bag material. This will also stop the straps from becoming impresses and unattractive should you decide to change the strap length.
The best place to store a purse is inside a cubby in your closet.
Regarding how to care for your purse or clutch, Sheila provides some more great tips, including:
Never store your handbag in plastic because many purses are made from leather, a natural material that needs to breath. If you store your purse in a bag, it might begin to grow mildew and bacteria.
Keep your zippers sliding smoothly by running a piece of natural bees was over the teeth.
Try to avoid handling your bag after touching beauty products, face foundations, or hand creams
Inside Closet Factory's "Handbag Storage and Care Guide", you will find a lot more tips from Sheila Augustine Bartol, Designer & Owner of Mia Cotone Handbag Dust covers.
Click below to download your guide!