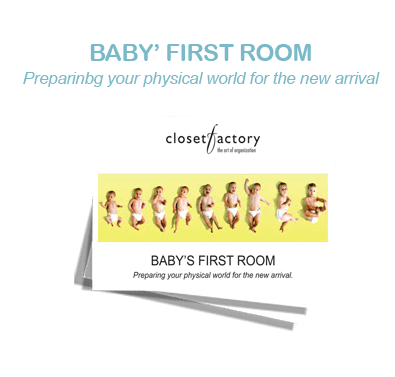 About This Guide
Closet Factory's download guide called, "Baby's First Room" is a great organizational tool for young families, expecting mothers, or even aunts, uncles or grandparents wanting to make a safe and friendly environment for a new born baby. This guidebook was written by New York Times best-selling author Regina Leeds who is also known as "The Zen Organizer." After being a professional organizer for more than 20 years, Regina has dedicated a significant portion of her life to helping her clients live their life to the fullest, while also helping them transform their chaotic homes into nurturing spaces.
In this Closet Factory's download guide, Regina helps you get ahead of the tremendous amount of work that needs to accomplished following the awareness that a new baby will be joining your home. One of the most important rooms to focus on is the nursery of course.
Regina emphasizes that one of the biggest mistakes new parents can make is not being aware that some materials can emit toxic volatile organic compounds, also known as VOCs. She offers great paint suppliers that have low or no VOC paints, including:
Benjamin Moore
Real Milk Paint Company
Pure Paint in the UK
In addition, Closet Factory's download  guide emphasizes that all cleaning products for new born nurseries should be as non-toxic as possible. Regina has conducted extensive research on the best way to keep your baby's environment clean and safe. She recommends using homemade cleaning solutions that are made from simple ingredients as vinegar, baking soda, lemons and lavender oil.
Another important area that this valuable download guide covers is how to create a closet and storage area that is designed and organized especially for a new baby. Some of the ideas presented in this guide include:
Use adjustable shelves and hanging rods that can be adjusted as your child grows
Include a sturdy step-stool for helping both mother and child reach items that are located in taller spots.
Consider using triple hanging sections to fully maximize the space
Use a floor based closet system so shelving can be built to the floor, eliminating wasted space.
Click below to download your guide!