What is a Custom Reach-in Closet Design?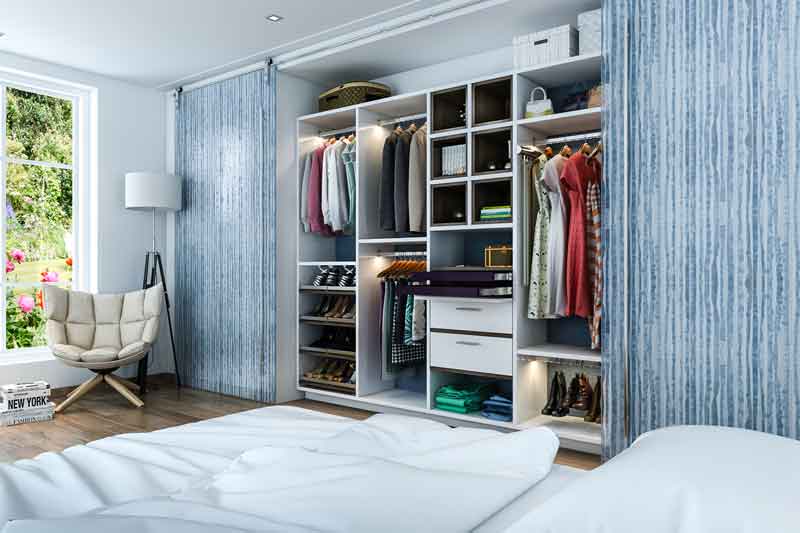 One of today's most popular custom closet designs is called a reach-in closet. A reach-in custom closet maximizes space within smaller storage areas. Reach-in custom closets include the following elements:
1. It uses individually-designed elements that maximizes storage in smaller spaces and multiplies space efficiency. These elements can include multiple hanging sections, adjustable shelving, and varying drawer and basket sizes for multiplying space.
2. It incorporates decorator finishes, personalized accessories and custom lighting to reflect existing décor or creating an entirely new custom look.
3. It utilizes cubby spaces, and pull-out accessories like mirrors, ironing boards, and valet rods to keep ties, belts, and scarfs at arm's length.
For more than 30 years, Closet Factory has been creating beautiful custom reach-in closets for tens of thousands of customers across the country. With so much experience, it is safe to say that we know how to create the perfect custom reach-in closet solution for any room or any space. While most DIY closet systems may work temporarily, a truly customize closet will last a lifetime, evolving to your needs while constantly bringing beauty, organization, and efficiency to your life.
To better understand how determine what are some of the important features for a custom reach-in closet, Closet Factory designers have assembled this quick chart to help you cover the bases when you are designing your own custom reach-in closet.
Custom Reach-In Closet Design Features
| Lighting (Optional) | Cabinet and Shelving Options | Drawer Options | Finish Options |
| --- | --- | --- | --- |
| LED strips under hanging rods, overhead recessed lighting elements add better functionality. | Combining multiple length hanging sections with a variety of panel and shelving depths can double the storage space in reach-in closets. | Reach-in closets can be both beautiful and efficient by using drawers, flipper doors, baskets, and pull out trays. | Custom reach-in closets can be created with melamine or a mix of materials to complement a home's existing motif, or creating a finished look that is totally new. |
| Recessed puck lighting placed above hats and handbags creates a custom ambiance. | Open shelving or cubbies make a great way to present hats or handbags, while slanted shelving with clear or metal toe fences elegantly display shoes. | Open cubby shelves or see-through drawers with Lucite dividers make great hat and handbag storage locations. | Melamine closet backings, dental crown molding, solid wood doors and glass fronts create instant elegance or a reach-in closet. |
| LED Strip lighting on the top and on the sides of drawers or shelving creates an elegant, custom look. | Drop-in jewelry inserts and velvet lined display selves showcase prized jewelry and accessories. | Custom made single or double layer jewelry drawers with Lucite dividers look great, and by including a "secret" drawer within the drawer frame you add security. | Black or red velvet lined trays and inserts can be configured in various ways that provide custom storage and protection for your accessories. |