Ways To Add A Home Library Into A Small Space
When moving into a small space, people are prepared to make many compromises, most notably not being able to have dedicated areas in the home for things such as mudrooms and laundry rooms.
Literature lovers everywhere are especially saddened by this concept of sacrifice, specifically the potential reality of not being able to house their entire book collection in a home library.
However, your worries are over, as in this blog, we'll cover a couple of ways you can add your very own home library to your small cozy living space.
Wall Unit Behind A Sofa
Faced with a small space, we try to maximize it by placing our sofa against the wall. Sacrificing just a foot of space will allow you to add a wall unit behind the sofa, creating both a comfortable nook and library all in one.
Adjoined To An Existing Room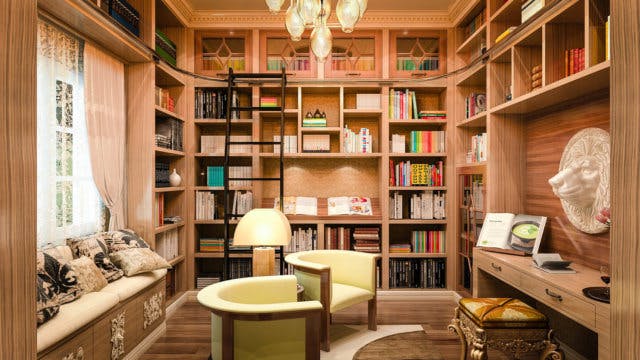 You can always adjoin your library to another room in your home, like the mudroom or family den. Library shelves can be customized around your literary collection and can be made to match your home's existing decor, all while keeping your books neatly organized.
For homeowners looking to get a little creative, accessories like rolling ladders, wall sconces, and decorative chandeliers instantly glam-up the space.
Hall Closet
The hall closet can be transformed into a tiny library for your small space. Best of all, your books can be protected by just closing the closet door. You might need to find a separate place for all of your cleaning supplies though…
Shelves By The Bed
Reading in bed is one of the coziest experiences you can have at home. If you love to read in bed, why not add shelving units next to your bed. If possible, combine those shelves with a Murphy bed. Why?
When Murphy beds are folded up, they stay out of sight and create extra space for the room, giving the illusion of a moderately sized home library.