Watch Reality Star Jill Zarin's Custom Closet Makeovers!
I love reality TV. Some of my favorite shows are The Real Housewives franchise on Bravo TV. When I heard Jill Zarin would be a Closet Story, I felt she was a perfect fit for a custom closet makeover. Frankly, I adore her style and absolutely loved the episode where she renovated her apartment. Secretly I wished Closet Factory was on the show doing the makeover, but it seems Jill has moved on to new ventures. A takeaway I got from the show is that she clearly takes pride in the family business, Zarin Fabrics, which offers high-end upholstery and has an interior accessories store in New York City.  A custom closet by a real professional company such as ours seemed like the next step for Jill and her Manhattan apartment.
Another reason Closet Factory is a great fit is Jill's incredible shoe collection. Many of you may recall I have a passion for shoes – especially designer ones. To me Jill is my kind of woman – one that takes shoes seriously! Another fun thing is that Jill has ventured into designing her own collections called Jill Zarin Home and Skweez Couture, a fashion shapeware line for women. I am so happy she is now one of our Closet Stories personalities.
I also love her clothes and was so engulfed in her shopping adventures on the show.  Her fashion sense is top notch. Jill's most unforgettable ensemble was from the Season 2's reunion special when she wore her infamous green suede Christian Louboutin pumps with the signature red bottoms. They were absolutely amazing!
When I saw the footage of her Closet Story Video for the first time I literally jumped up and down! She unveiled the infamous shoes now housed in her new bedroom custom wall unit! As a fan I was really excited and insisted we keep the Louboutin pumps segment in. You must see it!
As you watch the video make sure to keep your eye out for the following custom details:
Slanted shoe shelves with Lucite toe stops create the perfect shoe display for Jill's designer shoes.
Jill's flat closet doors feature a wide bevel for a modern yet sleek emphasis.
Satin chrome and frosted glass handles and knobs were added as decorative accents on Jill's doors.
White faux alligator door faces were used to add texture and sophistication to the overall look.
Even if you never watched The Real Housewives of New York, check out her closet story and see her great closet evolution!
Watch Jill's exclusive Closet Story section featuring the video, gallery and interview: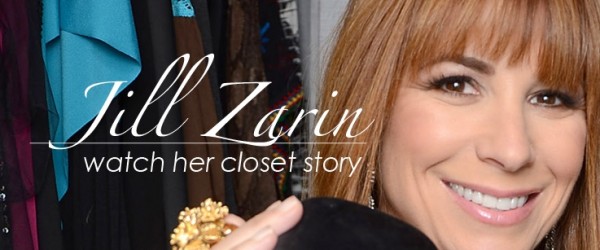 Go to Jill's Closet Style Page for more details on the products she choose for her bedroom wall unit and walk in closet.
Visit our
Custom Closets
page and get inspired to organize your closet!