Two Master Closets for Celebrity Stylist Mary Alice Stephenson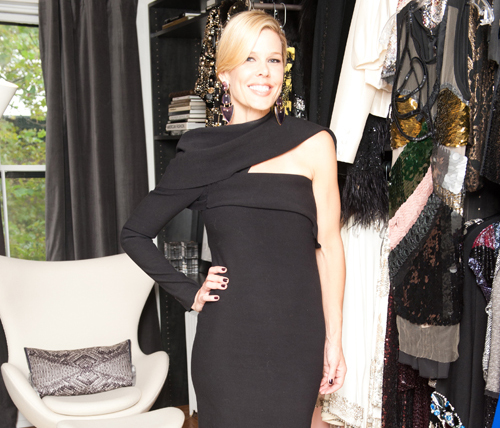 This past August I had the pleasure to work with Mary Alice Stephenson, one of the world's top fashion stylists and commentators, to create two dream master custom closets! Mary Alice began her career working for fashion publications including Vogue, Allure, and Marie Claire and Harper's Bazaar. Today Mary Alice is a "style and beauty expert" advising many fortune 500 brands, styling for the hottest magazines and who does not love watching her talk fashion for pretty much every network out there!
Mary Alice's three-story brownstone is located in the historical area of Brooklyn, New York called Cobble Hill. The building has stunning exterior and interior architecture including tall ceilings with highly detailed crown and base moldings.  The interior décor is modern contemporary and has a sleek color palette of white, grey and black with current artwork and pop photography adorning the walls. The challenge was to create an organized space that would house all of her clothing and accessories, transforming the entire third-floor of the home into a two dressing rooms that displayed her collection beautifully.
Prior to the renovations Mary Alice's  wardrobe was hard to stay organized, lacked enough closet space, and was housed two spare rooms. Her shoes and handbags were not easily visible and often these beautiful pieces were hidden behind the closed doors of her closets. The vast wardrobe consists of couture clothing, a multitude of designer shoes and handbags as well as the most incredible jewelry and accessory collection that I have ever seen!
After the initial meeting with Mary Alice we decided to use a charcoal grey (almost black) wood grain melamine called "Midnight Stroll" and brushed chrome hardware for both of the master closet rooms. This was a great choice because it kept with the contemporary feel of the home and matched her personal style.
The main dressing room houses of all of her clothing from beaded evening gowns by top designers, basics, separates and casual wear. Mary Alice prefers to hang most of her clothing so it can be easily found and easily color coordinated. Several valet rods were installed to showcase her most beloved pieces her outfit for the next event.
My favorite part of this closet is the island in the middle of the room. It has 48 velvet line pullout trays with Lucite fronts filled with her unbelievably spectacular jewelry collection.
We designed the second room to be a closet for all of her shoes and handbags. Adjustable shelving was installed on both sides of the room. To keep her handbags more organized we added these great Lucite dividers. Now Mary Alice can easily find the shoes or handbag she is looking for.
Once this custom closet was filled, it looked like the shoe department at Saks 5th Avenue. The end result… a beautiful and organized dressing room and accessory closet. Mary Alice said Closet Factory has changed her life!