Two Exciting Custom Closet Contests! – St. Louis & Colorado
Here is something new and out of the ordinary for Closet Factory! A couple of our locations currently have custom closet contests running in their areas. Read on to find out more!
Teen Dream Contest – Closet Factory St. Louis
I am so excited about how fashion conscious teens are these days! Back in the…um…90s… fashion was frankly baggy, flannel, plaid and all bad. One thing every teenage girl dreams of in 2011 (besides Justin Bieber) is an exquisite custom closet to house her precious Forever 21, Hollister, H&M, and Roxy clothing!
Closet Factory St. Louis came up with a fantastic Teen Dream Contest for local teens! The 11 lucky girls participating designed and drew their own custom closet system designs. Click the image bellow to go directly to the website for more detailed information on this local contest.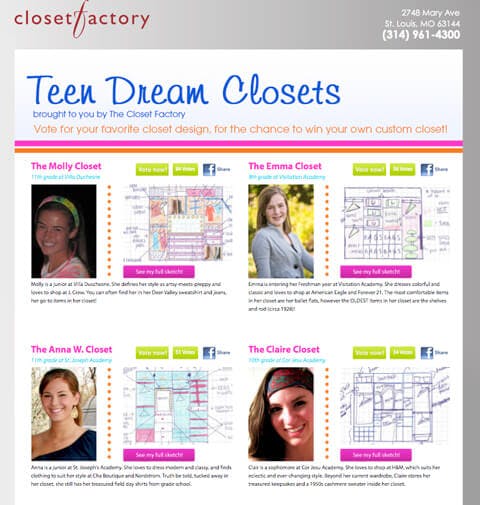 From Messy to Marvelous Closet Makeover Contest – Closet Factory Colorado
Now this contest really takes the cake if you're living in the great state of Colorado! Closet designs are complex and depending on your own personal style, aesthetic, storage needs and all the extra custom features that we offer at Closet Factory this lucky winner will surely be a happy one!
Enter to win a custom closet makeover worth up to $25,000! Can you believe it? Closet Factory Colorado partnered with the home décor magazine Colorado Homes & Lifestyles to create the From Messy To Marvelous contest! If you live in Colorado click the image below and go straight to the site! Entries are being accepted until July 19 of 2011!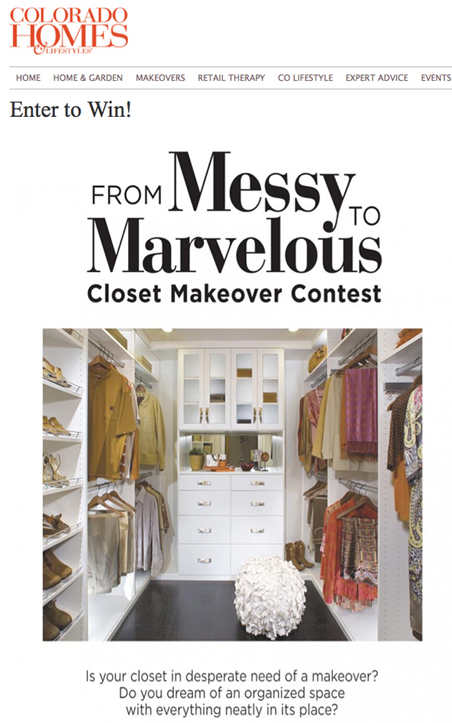 We will follow up with both contests in a future post! For a better idea of our contemporary, modern and luxurious variety of closet designs visit the custom closets section of national website!
Still interested but a contest is not in your area? Request a free design consultation today, we have locations nationwide!