How to Transform an Extra Room into a Walk-In Closet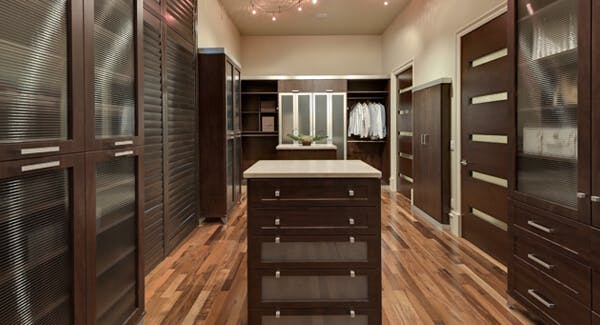 Very rarely does one feel like they have enough storage space in their home. If you've ever feuded with a partner over hanger space or given up on finding an article of clothing you lost in the recess of your closet, it's time to start thinking about solutions. And, if you're one of the lucky few who has a spare room you are not really using, why not try turning that unused space into a walk-in closet?
Transforming a spare room into a dressing room or walk-in closet can completely change your organizational life. You will be able to store all your clothing, shoes and accessories in one room, freeing up the closet space elsewhere in your home for other needs.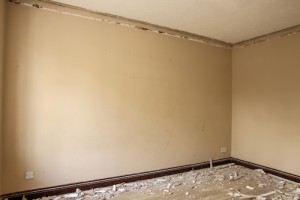 The trend these days when creating a walk-in closet is to not only build a closet, but to also create a personal space where one can retreat and spend some time alone. Whether it be a dressing room or a man cave, a walk-in closet is now simply more than just a place to store clothes.
Design elements such as lighting, seating areas, vanities and floor coverings are coming into play as people make their walk-in closet into another living area. Since a closet is such a personal space, some people are even housing valuable possessions like vintage wine or a wall solely dedicated to their shoe collection in their custom closets.
When turning a room into a walk-in closet, you can either DIY or work with a custom closet company. Whatever choice you make will depend on your budget, your needs and the kind of look you want. Closet systems generally fall into two categories: wall mounted and floor mounted.
Wall-mounted ones are hung from rails mounted onto the wall or attached directly to the wall. Floor-mounted closet systems are also attached to the wall but most of their support comes from the floor. Because they sit on the floor, they look more like built-in cabinetry and tend to look more integrated into your home's architecture.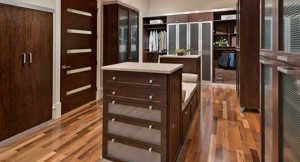 Wall-mounted systems combine wire baskets and racks with hanging shelves for a contemporary and utilitarian look that works well for the budget conscious. Conversely, floor-mounted systems have a higher cost since they are sturdier and made from particleboard covered with melamine. Melamine is used because it's cost effective, durable and can be used to create a variety of looks depending on the design, finish and trim.
If your primary concern is about making your walk-in closet look good or maximizing the space, it's best to hire a closet professional who is not only a designer, but also an organizational expert. They will also know how to work around windows or any odd corners in the room so every inch will be utilized for your storage needs.