The Top 7 Challenges of Working in a Home Office
Call it a work desk, chore corner, bill-paying station or kitchen table…the home office comes in all shapes and sizes. It's the place you come to get things done. But some days it's pretty challenging to stay productive. Why is it often difficult to work at home?
Most of the challenges are centered around home office organization. If you are used to having your own space in an office, you may struggle harder to keep your home office neat, functional and attractive. A good home office design has some unique considerations that include privacy, adequate storage and shared usage.
These are the issues most commonly associated with the success or failure of a home office design.
No boundaries. It's great if you have a spare room to use as your home office but even here you may notice that others in the house don't respect it as a place to work. This lack of boundaries is even more apparent if you are carving out work space in an area already devoted to other functions, such as the kitchen.
Frequent distractions. Hear the dryer buzzer go off? It probably takes every ounce of willpower to stay on task at your desk instead of loading up the laundry basket.  Home distractions are probably the number one reason productivity in a home office is not what it could be. A proper setup helps you stay focused.
Poor organization. You've tried every cute storage product available and still can't find a pen when you need one. Home office organization is the foundation on which most of your other challenges will be met. Settling for odds and ends for your desk, chair and storage means that the setup is dictating what you can accomplish instead of the other way around.
No place to store things. There is an art to good storage that is really exciting if you have the right tools. These tools may include cabinetry with adjustable shelving, bookshelves, file drawers and divided drawers. Underpinning them all is a strategic use of available space.
Office doesn't complement the house. A home office needs to function like an office but it shouldn't look awkward or out of sync with the rest of the home. This is especially important when your home office is in more of a public area such as the family room. Large equipment ideally should be concealed within cabinetry stained to match your other furnishings. Cords and cables should be nearly invisible.
The unofficial depository. "Where does this camera go?" "I don't know; let's just put it in the office." With their gleaming expanse of desktop, home offices are particularly vulnerable to hosting things that don't belong there. Understanding what belongs in the home office and what needs to go somewhere else is an essential part of the game plan. The other part is designing a place for every necessity.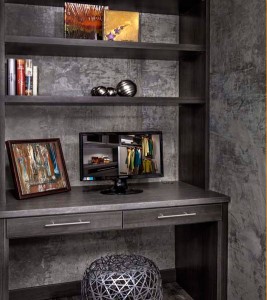 Not enough space. Is a small nook between the pantry and the garage door your only hope for a home office? Sometimes it's not as much about the size of the area as it is about smart space usage.  Bare walls, desks with no drawers and shelves that aren't deep enough for your books are what really affect the functionality of your home office no matter what its size.
What the ideal home office boils down to is paying strong attention not only to where you work best and what kind of work you do, but also creating the organizational system that answers your every need. Our professional designers specialize in creating home office systems that work around you.
How does your home office measure up? Use our online form to schedule a free design appointment.