Storage Solutions: From Boring Basement to Custom Craft Room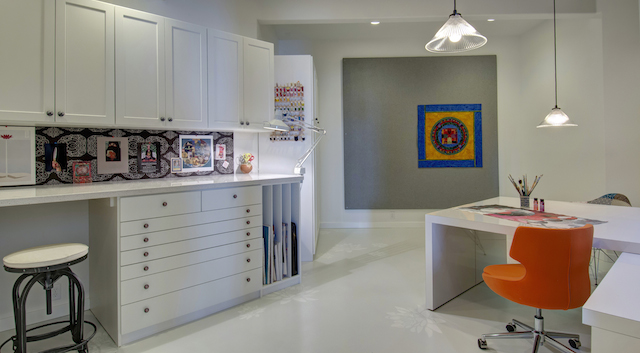 Whether you're downsizing or need extra room, a basement isn't just a place to shove everything you don't want to go through or a place where scary movie scenes take place. Once remodeled, a basement can provide you with extra living space – it can become a special place like a sewing room or it can provide you with storage solutions. And sometimes, it can even do both.
Finished Basement Company in Denver approached Stacie Nowak, a Closet Factory designer in the Mile High City, to partner with her on designing a craft room for the basement of a client's house. The client is an artist who concentrates on painting fabrics and quilting, and she wanted a functional – but beautiful – space to create her art. Working with Rachal Ahalt, a designer for Finished Basement Company, Stacie designed a very well planned and well-engineered sewing storage and craft room that had space for everything and allowed it all to have a place.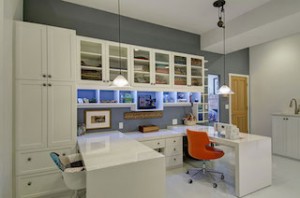 Being an artist, this client had specific craft room ideas and a very specific vision about what she wanted. The client is also a seamstress, and she had a collection of vintage sewing machines that she wanted to display, but she also needed craft room organization system for all of her fabrics and quilting squares. Since she painted large pieces of fabric, she also needed extra large workspaces in addition to places to keep the fabrics while they dried. Furthermore, the room still had some basement duties, and the client needed a place for the washer and dryer, and a storage system.
Working with 1,600 square feet of space – that was oddly shaped – Stacie sat down with the client to first assess her needs. Designing a place to store fabric pieces and a display area to display the client's vintage sewing machines was the easy part. Stacie used 14-inch deep cabinets with 12-inch deep cubbies mounted below them to fulfill both needs. However, coming up with drawers large enough to fit 40-inch painted, fabric canvases and a table with a recess large enough to fit a sewing machine was another matter altogether.
Fortunately, Closet Factory specializes in custom-made storage solutions and furniture. So, Stacie drew up the plans for a custom set of map drawers fitted with heavy-duty sliders for the client's large painted fabric canvases. Stacie worked with Polly Lestikow, the owner of Closet Factory in Denver, who made sure the factory could manufacture such large drawers.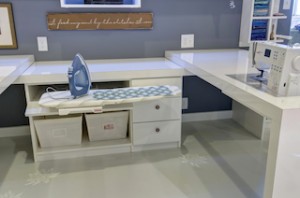 The factory also custom built two L-shaped tables. One of them was a recessed table with space for a sewing machine to rest when not in use. They also cut a specially sized plexiglass top to lay over the stored sewing machine, which allows the client to use the table in its entirety even with the sewing machine stored inside it. Another custom-made piece was a pullout ironing board, which sits next to the sewing machine, so fabric can be easily ironed as the artist sews.
To ensure that the room could still perform its assigned basement duties, the washer and dryer were hidden behind doors that looked like drawers, and other storage areas were created with matching cabinetry. To perfectly accent the room, the client had all of the cabinet doors fitted with specially ordered doorknobs stamped with a sewing machine design.
To create a feeling of serenity, Finished Basement Company stenciled a lotus blossom design on the flooring and installed recessed lighting to create a calming mood. They also granted the client her biggest wish – being able to see the Rocky Mountains while she worked – by creating a picture window in the formerly windowless basement.
In a collaborative effort, Stacie and Rachel were able to transform the client's basement into a dreamy craft room that was not only a functional workspace, but also a creative oasis.
Ultimately, this project won the award for Best Residential, Single Space, Dedicated Function at the American Society of Interior Designers' (ASID) annual Crystal Awards, which honors the best in interior design.
— Vicky Choy believes in the art of organization. She is a lover of all things collaborative and a writer with a passion for the digital multiverse.