Six Tips to Help You Prepare for Holiday Guests
Hosting holiday guests doesn't require a lot of space nor does it mean you have to do a ton of work. All you really need to welcome guests is a clean and orderly space with a few special touches to make them feel comfortable.
For example, simply organizing the guest bedroom and bathroom will go a long way in creating an inviting atmosphere. And, since having guests means you'll be serving meals, an organized pantry will help you plan what to serve while allowing your guests to help themselves.
Here are six tips to help you organize your home for holiday guests:
1 – Do Maintenance First
Whether it's a guest room or a roll away bed, take a look at your guest's living space and see if there are any maintenance issues (lighting, touch-up painting etc.) that are needed. Make a list of what needs to be addressed, then prioritize what needs to be done realistically in the time before your guest arrives. Focus on the areas your guests will be frequenting the most. If the guest room and dining area both need sprucing up, but you don't have time for both, choose to do the guest room since that's your guest's private space.
2 – Clean and Prepare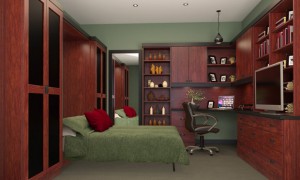 For most guests, a clean place to stay is more than enough, but as a host you want them to feel extra special. Make sure that the guest room or guest area is clean and be sure to remove any tattered rugs or old towels. This is the time to take out nice linens and extra pillows and blankets. If your guests are using an air mattress, check for leaks and make sure it works. Much easier to maintain Murphy beds save time and space; simply ensure the bed has linen, and it's ready to be used anytime. Also, don't put off cleaning until the last minute. It always takes longer to clean up than you think and if you start the cleaning process a few days before they arrive, it will help alleviate any unnecessary, last-minute stress.
3 – Stock the Bathroom
It's imperative that the bathroom your guests will be using is clean. Make sure to clean your showerhead, bathtub caulking and shower door or curtain. Check that your sink and tub are draining properly and replace any old cakes of soap. Put out those little hotel toiletries that you've been collecting in case your guests forgets something.
4 – Clear Space in the Closet
If there's a closet in the room where your guest is staying, make sure you provide space for them to hang their clothes and put their luggage. If your guest is sharing your closet, then you will have to declutter your closet and may have to remove some of your things and store them elsewhere. Sometimes a hall closet can be used for guests, which provides them a place to hang any wrinkle-attracting clothing.
5 – Organize Your Pantry or Kitchen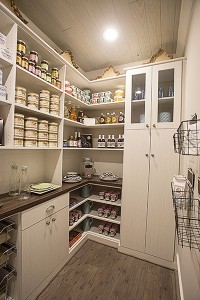 This is the time to clean out any old food items and restock with new ones. Plan meals ahead of time and makes sure you have all the ingredients you need. You don't want to be entertaining and suddenly realize somebody has to go to the store. Put breakfast items and coffee and other beverages where guests can easily see and reach them.
6 – Take Care of the Little Things
Putting a vase of fresh flowers in the guest room or bathroom and stocking up on your guest's favorite foods are always nice ways to welcome them into your home. Make sure you make a spare key for your visitors, and if it's their first time seeing your city then compile a little packet information of maps and things to do.
When it comes to welcoming holiday guests, you don't need to renovate your house before hosting people. All you need is a little preparation, organization and a few special things to make your visitors feel right at home.