From a Simple Walk-in Closet To a Custom Designed Dressing Room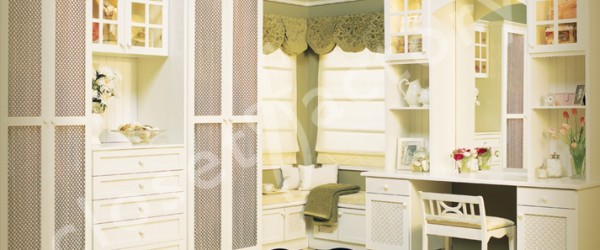 Today I met with a client who had a special request (her home is waterfront over-looking the Long Island Sound). Her master walk-in closet was open to her master bedroom and master bathroom. The closet not only had to be well organized but needed to look like it belonged there. She wanted to aesthetically tie her closet to these two other rooms. I noticed that her style was a cross between beach cottage and English cottage.
After taking an inventory of her clothing requirements we added double-hanging sections with brush aluminum hanging rods to maximize her hanging space, defined a special hanging hanging section for her long dresses and added a sliding belt rack to storage her eight belts. For her folded sweaters, knits and twinsets, we designed cubbies to keep her stacks of folded items organized. She has an impressive collection of footwear. She preferred a mixture of slanted shoe shelving and flat shelves. She chose the slanted shoe shelves with a solid toe-stop to give a more substantial look to her footwear sections. She also chose flat shelves so she would be able to adjust the shelves depending upon the height of the heel of the shoe or boot. We added tilt-out hampers for her soiled garments; one for dry cleaning and another for laundry. Since she had one obstruction in her closet, a window, she would need a space to put her shoes on. This was a great area to design a seating bench with storage for her extra bed quilts. This, she felt, would keep her closet well organized.
Aesthetically we added a 3/4 bead-board backing to every section. Since her bedroom had this decor feature, we decided to incorporate it as well. It was also a great way to make the closet maintenance free, since the walls will never require painting. We added a beautiful white painted wood crown molding with a rope detail to tie in the nautical theme and used base molding at the bottom of every section. For the hampers, we added a glass knob with a brush aluminum base and added a shaker with a "wainscoting" inset profile door face. Once again these minor details were very important to her. By the time she made her final decisions on form, function and decor. We transformed a simple walk-in closet to a custom designed dressing room.
Find out how you can save money, time and space by downloading your own Personal Closet Inventory Worksheet. Browse our project gallery for some inspiring ideas or visit the custom closets section of our website!

By: Joseph Pasquino – Closet Factory New York