Reduce Clutter in the New Year in Nine Simple Steps
Many people make New Year's resolutions about losing weight, saving money, going to the gym, which typically accompany a long list of other goals. Another category that is often a high priority is to get organized and making your home a more functional, livable space ready for entertaining.
The problem with most New Year's resolutions – they are too ambitious or the lack of steps to reach the overall goal. Most resolutions are doomed to fail even before the first week of January ends. To tackle this large goal, break down specific items that can be completed easily and within a month. At the end of January, set new goals for February and so on. Here are nine great ideas to get you started.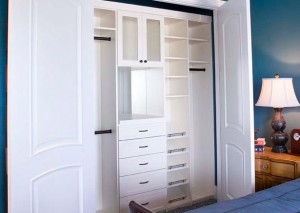 1 – Clean Your Closet – Closet organization makes a huge impact because this is where most people start and end their day. Having a clean space that only holds those things you wear will have the largest impact on your daily life.
2 – Purge Your Clothes Drawers – Go through all of your drawers and donate your clothes – the sparsely used ones – to those who will get some use out of them. Overstuffing drawers is a sure way to feel unorganized. When drawers are neat and have extra space, your room simply feels lighter.
3 – Clean Your Counters – In the kitchen and bathrooms, remove anything on the counter that is not used daily. For example, the coffee pot can stay on the counter, but the mixer should be stored in a cabinet because it is only used once or twice a week.
4 – Dishes Put Away Every Night – The kitchen is one of the most used rooms in any home. Dirty dishes in the sink can turn into dishes on the sink which can turn into a very messy kitchen. Clutter in the kitchen allows clutter to creep into other rooms as well. Make it a rule – all dishes are to be put in the dishwasher every night, no exceptions! It will take about 90 days of being strict with yourself and everyone in the house until the rule is followed.
5 – Put Clothes Away Right Away – Whether the laundry has just been done or you have dirty clothes at the end of a day, put all of your clothes where they belong before you go to bed. Waking up to a clean room will leave a positive impression on your entire day.
6 – Clean Out Your Cleaning Supplies – Spring is just around the corner so get ready for the deep cleaning you will do when the weather starts to turn warm. Make sure that anything that is almost empty is used, or you replace anything that is missing. Also, consider making the move to to green cleaners. They are better for your home, the environment and can even save you money.
7 – Choose One Room Per Month – Select the room for the month of January and clean it from top to bottom including the removal remove all clutter or things you do not use. If you choose a bathroom, clean everything including things like the cupboards and the grout between tiles. Buy bins to store like items, get a new soap dispenser and other items you like for the counter.
8 – New Stuff In, Old Stuff Out – Whenever something new is brought into the home, another thing of equal size should be removed. This will keep clutter to a minimum and make you more mindful of what you buy.
9 – Analyze Your Walls – One of the easiest ways for rooms to feel cluttered is by having too many things on the walls. If there are too many paintings or wall art, remove everything from the wall and choose your favorite pieces to hang. Store the other items and they can be switched out the next time you change the look of that room. This is definitely where having a friend help you to determine where your pieces should be placed is useful.
The momentum of doing small things every month will propel you forward and have major benefits. Before you know it your dream of being organized will be realized and your New Year's resolutions resolved.