Pantry Organization Ideas for the School Year
Think of your pantry as Grand Central Station for the next nine months. It will no doubt be thronged with hungry kids after school and before sporting events, pawing through your carefully stacked provisions to find something to eat.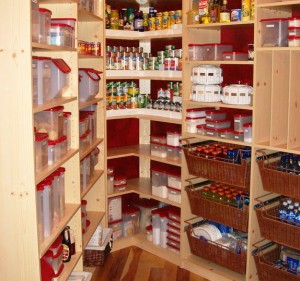 This is one part of the home you want to stay on top of! Organizing and managing your pantry well means you always have options for a quick dinner and you reduce last-minute supermarket runs for staples.
Step 1 – Take Inventory
Keep it simple; get a stepladder, notebook and pen (or use a notes app on your smartphone) then list the items you have and how much. Write down the items you need to replenish as well as any new items you may want. Consider shelf-stable snacks such as energy bars, popcorn, dried fruit and nuts. Remove expired items and consolidate where possible.
Step 2 – Purchase in bulk, work the sales
Buy the items you need immediately at a club warehouse store, or with coupons at your go-to supermarket. Don't forget to check sources online, too. Think about meal-stretching canned goods such as pasta and beans. A variety of tomato products is good for quick spaghetti dinners. Put large juice and water containers on the lowest shelf. Transfer packaged cookies into sealed plastic containers.
Step 3 – Organize
Use common sense here, utilizing a zone approach to pantry organizing. The highest shelf is best for wine and spirits as well as items used less frequently. Middle shelves are ideal for condiments/sauces, pasta, packaged dinner items and cereal. Organize your canned goods using some of our pantry tips. Have a kid shelf within reach for little ones with lots of healthy snacks. Keep the sugary items out of reach.
Keep us in mind for a completely custom pantry organizer uniquely suited to your needs. Call (800) 838-7995 for a complimentary design appointment.