The Mudroom, It's Not Just for Cold Climates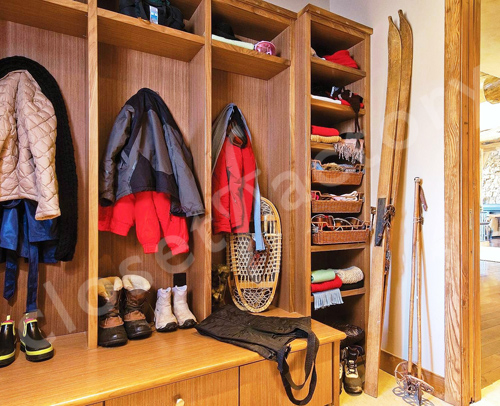 We live in Southern California so we don't have much need for a Mudroom, but I have always loved how they looked in catalogs and model homes. It seems like the perfect place to store shoes, jackets, umbrellas, backpacks and keys. They are organized, functional and can blend into any décor from modern to antique.
Then I realized you don't have to live in a colder climate to enjoy the organizational benefits of a mudroom. Historically mudrooms were found in the back room or porch as a place for farmers to deposit their soiled clothes and boots and wash up before entering the main house.
Today mudrooms serve a different function and are often found near an entrance into the home. A well-designed mudroom can serve as central hub for family members to organize everything they need to take in and out of the house. You can store school backpacks, sports equipment, car keys, jackets, brief cases, sneakers, beach bags and more. If you have several electronic devices add a charging station to you mudroom to ensure everyone's mobile phone is fully charged. Consider integrating the family calendar into the space and a chalk board for quick reminders.
A mudroom has become more than just a place to drop off wet and soiled clothes, it's your family's organizational hub. A space for every family member to keep everything when they enter the home and pick it up on their way out. This will prevent the shoe piles near the foot of the couch or the sea of backpacks on your kitchen table.
What would you add to your mudroom?
For more ideas on what to add to your mudroom or how to design one visit Closet Factory.