How Merrick White, Mother-Of-Three And DIY Expert, Found Closet Bliss Through The Closet Factory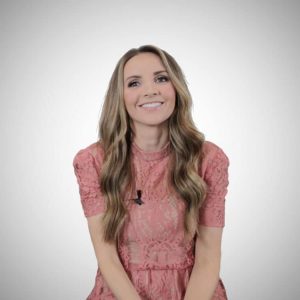 Merrick White is a very busy woman! She is a devoted wife and mother of three young boys, Benson (5), Foster (3), and Sanford (6 weeks), as well as a successful style and sewing blogger for her blog Merrick's Art. The site instructs women how to create a workable, re-mixable, budget friendly, partially handmade, and all-around amazing wardrobes for any occasion. Merrick is a one-of-a-kind, true style-master whose laid back and polished designs have been defined as "effortless chic."
Unfortunately, Merrick's closet was anything but effortless. It was inefficient, too small, and poorly designed. It made dressing and organizing incredibly difficult. Merrick called the Closet Factory to help bring order and rejuvenation into her busy life as a full-time mother. As a designer and seamstress, Merrick also wanted to create a closet that showcased and displayed her hand-sewn fashion creations, and extensive shoe collection.
"The closet that our house came with was just a standard closet – one shelf across the back and one rod. It just wasn't functional and wasted a lot of space. I mean there was no functionality at all. You could hang stuff, and set stuff on the one shelf, but a lot of my clothes had to sit on the floor. It was so frustrating for me," said Merrick.
Time To Call In The Professionals:
A consummate Do-It-Yourselfer, Merrick contemplated resigning her own closet, but then thought better of the idea. She knew she needed a professional to bring her ideas to life, present options, and provide suggestions to create the perfect design.
"I have done a lot of DIY most my life, and I like doing things myself. But there are some things that are best left to the professionals. So when I decided to hire someone to do my closet, I did a lot of research. I looked online, I looked at price points, and I looked at ratings. I ultimately decided on Closet Factory. They were exactly what I was looking for. They were the right choice for me," said Merrick.
From the moment Merrick contacted the Closet Factory, she felt engaged, involved and empowered. She met with the designer, and quickly realized that the designer was going to create a space that was inspired by Merrick's specific needs and style vision.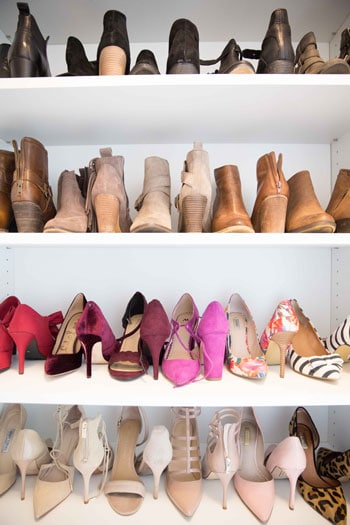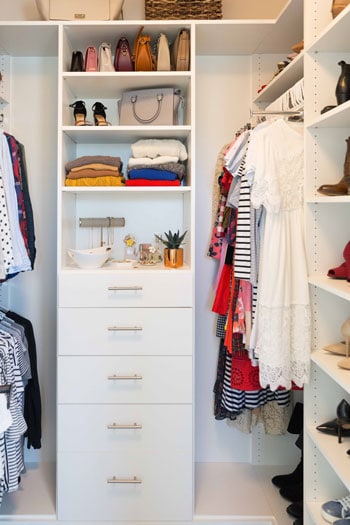 "So when the Closet Factory designer came to my house and looked through my closet. We talked about the functionality of the space, and what kind of things I was looking for. We looked at how many shoes I had, she looked at my clothing, how much storage I wanted. She asked if a jewelry drawer was important to me. All these different questions helped me figure out what I needed from this space. The truth is, I really I didn't know what I wanted. I just knew I needed more functionality in the space, and that I wanted more storage. The designer was able to ask the right questions and looked through my clothing, measure the existing closet with me so that together we could come up with a really good design that would make my life easier," said Merrick.
From An Ordinary Closet To An Uncluttered Retreat: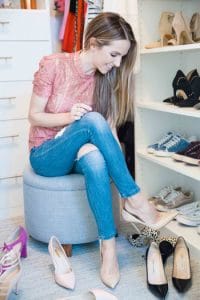 Merrick's designer successfully transformed her closet from boring and ordinary into an elegant, uncluttered sanctuary. Merrick loved the way the designer created a way to display her purses and shoes.
"One of the biggest challenges we faced with my new closet was how to store my purses. So my designer recommended we install shelves above my drawers. The shelves are all adjustable so you can move them up or down, and you can use them for displaying small items like purses," said Merrick.
But it was the way that Merrick's shoes were displayed that really transcended her expectations.
"My absolute favorite thing about my new closet is the way my shoes can be stored. I have a really beautiful collection of shoes because I love collecting shoes. Now I can display all my shoes and see them all at the same time. It's like a little piece of art, and a little piece of me. My new shoe display is like my crowning jewel," said Merrick.
With her new personalize closet, Merrick can focus more time on being a mother, and continue her passion for creating art and fashion.
"My custom closet allows me to have all my stuff in perfect view. Having everything in this great layout where things are organized by different categories, I am able to see everything, and now I can actually wear everything in my closet," said Merrick. "My old closet was so annoying and frustrating. There was no storage and no functionality. My new closet has a spot for everything. It has helped me so much, and helped me feel so much saner throughout the day. It has really helped my life a lot," said Merrick.
By Vincent Aviani
Check-out how Closet Factory also helped Fashion and Design blogger, Ashley Hafstead and Hollywood Actress, Daniella Monet.