Luxury Custom Closet Features – Design Series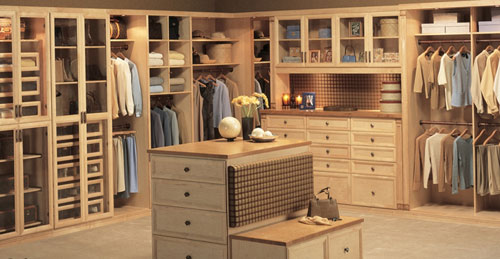 Wood Edges Adorn Closet Panel Edges
Our Design Series offers wood closet systems and wood looks. The custom wood edges are solid wood, not veneers on our closet panels and shelves. And they're milled to your specifications with a soft radius, a full bull-nose or a square-flat shaping. We can apply these solid wood edges to vertical panels, shelves and even countertops. Wood edges can also be applied to our standard Melamine board materials, helping to provide the look of real wood without the expense of doing the entire closet in real wood veneers.
Optional Fluted Panels Add Texture & Elegance
You won't find our solid wood, custom-stained, fluted panels at any other closet company. The spacing between flutes, the number of flutes, and the start-stop points of each flute are all customized to perfectly match the height, width and thickness of your vertical panels so that you get exactly the look you desire.
Closet Columns and Half-Columns Give Dimension
Sometimes you want something a little less 'flat', something that will stand out in your design. That's when you turn to columns. Our custom turned columns and half-columns add an extra dimension that transforms the look from simply beautiful to spectacularly gorgeous.
No Custom Closet Is Complete Without Solid Wood Moldings
Adding crown and base molding to your closet will really set it off like icing on a cake. Our wide selection of crown and base add style and dimension to your custom closet, making it look like fine furniture. Closet Factory also offers a selection of trim moldings that can be used to enhance the look of door and drawer faces, the vertical panels, and even the crown and base moldings. Using solid wood moldings and having them custom stained to match the rest of your system simply adds to the luxurious feel you are creating in your closet.
Why Your Closet Should Be Thicker
Judiciously, tastefully, or extravagantly using single, double and extra-thick materials on the vertical panels and shelves greatly influences the stylistic impression your custom closet creates. And Closet Factory Designers know exactly how to do it so that the impression your closet creates is the one you want.
Solid Wood Faces Add That Extra Luxury
It's when you're up close that you can really appreciate custom solid wood door and drawer faces, each with their own unique grain, texture, and look. For many people, natural wood is not only nice to touch, it simply looks elegant. We have many styles available to enhance the aesthetic appeal of your closet.
Specialty Door Inserts For Style
When you want to keep those special items protected behind doors and you still want to see them, we recommend using glass inserts framed by solid wood doors. Select from clear, etched, sandblasted, or one of our many other glass choices to add a truly uncommon touch.
Lighting To Pamper
Often overlooked or taken for granted, lighting plays an illuminating role in making your custom closet attractive. Recessed lighting behind glass-framed doors, over a countertop, or lighting up your hanging garments is a great way to make your closet inviting any time of day or night.
The 'No Holes' Look For Custom
We're all for adjustability in a closet system, but it's just not for everybody. In fact, not having the system holes gives the closet a richer, custom-made furniture kind of look that many of our customers prefer. With Closet Factory the choice is yours.
Decorative Hardware For Accents
The shape and style of hardware in your closet will subtly influence the finished look and feel. Shapes can be modernistic, contemporary, elaborate, or strictly functional. Choose from our extensive catalog of styles for the look that will be perfect for you.
Hardware Finishes To Match
The color and finish of hardware will also influence the finished look. Closet Factory offers antiqued brass, brushed nickel, oil-rubbed bronze and many other finishes for the rods, handles and knobs that adorn your closet.
Visit Closet Factory's "Expressions" section for the choice of styles, colors, products, layers, and organizational functionality to suit your custom closet needs. Browse ourproject gallery for some inspiring ideas.