My Jill Zarin Custom Closet Story
Being a designer for Closet Factory is always satisfying and fulfilling. I truly enjoy creating beautiful spaces that help people organize their lives.
This fall I had the opportunity to work with an amazing client, Jill Zarin!  She is a former Real Housewife of New York (Bravo TV), best selling author of Secrets of a Jewish Mother, the creator of the shapewear line SKWEEZ COUTURE and now also  Jill Zarin Bedding; not to mention trendsetter, fashionista; The mom of Ginger (New York's most famous dog) and just recently tennis partner of Chris Everett in a charity event.  How exciting!
Working with Jill was so much fun! Her energy and enthusiasm made the whole process from design to installation extremely rewarding.
The challenge was creating a glamorous closet that would coincide with the decor of her chic Manhattan apartment while exceeding all of her wardrobe storage needs.
Her apartment is beautifully appointed with silk fabrics, hand painted walls, beautiful carpets, custom wood built-ins with a mix of art deco pieces and antiques.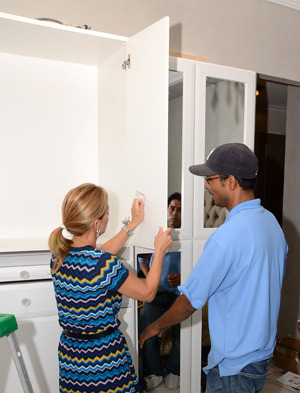 The color scheme was blues, teals and grays…. There were sweeping views of the East River from every room.  We decided to select a new color, Linen Light Gray Melamine, for the closet with hardware accents of large modern handles in brushed chrome.  The Linen Light Gray was selected for it's texture and color because it complimented the hand glazed walls and grey silk carpet.  White Alligator Melamine doors with Mirrored inserts and Crystal Bar Handles was selected for the wall unit in the bedroom.   It was dazzling and fit the room perfectly!
Now that the decorating decisions were made we needed to address the storage problems.  Jill's current custom closet system designed by another closet company was not working for her.  It consisted of a closet organizer designed with basic shelving, hanging rods at standard heights and a few deep drawers.  Her large selection of designer handbags and shoes did not fit into the space.  Her leggings and T-Shirts were in such deep drawers she could not find what she needed without going through the whole drawer multiple times. Because her rods were hung all at the same height it did not accommodate the variety of dresses that she owns. Almost all had a different hemline from short to long. And there was a major flaw in the current system – there was no place to store Jill's costume jewelry and even worse her Skweez Couture line.
With some creativity and careful sorting of dress lengths the new design we can up with incorporated all of Jill's needs.   In Jill's new design the closet had a tower of velvet lined 3″ high Lucite trays for her leggings and Skweez Couture.  Because the fronts were clear she could see exactly what was inside each tray.  The shallow depth of the trays made it easy for Jill to find what she needed without digging or searching as she had prior.  We used lots of deep shelves to house her handbags and installed a variety of hooks on the wall behind the door for additional handbags that worked well hanging from their straps.  We custom hung her rods at different heights to accommodate the different lengths of dressed she owns.  Drawers for T-Shirts and sweaters were placed as a focal point on the back wall as well as a double-decker jewelry drawer with a lock.  Because the ceiling height of the closet was 9 feet tall we were able to use all the height to create optimum storage.
The Faux White Alligator wall unit with Mirrored inserts contains storage for Jill's current selection of designer shoes.  There is space for tall boots as well as Lucite slanted shoe shelves for the rest of her shoes.
Now Jill is very happy with her Closet Factory custom closets.  They exceeded her expectations in storage, organization and appearance.   She is so happy that she asked me to design her husband Bobby's Closet!!!
Article Written by: Gabi Glassman of Closet Factory New York
Jill Zarin, reality star best known for Real Housewives of New York City, acclaimed author, and fashion entrepreneur lets you peek inside her closet and experience her story February 27, 2012. Check out more details on Closet Stories Page!