How To Spring Clean Your Closet! Part II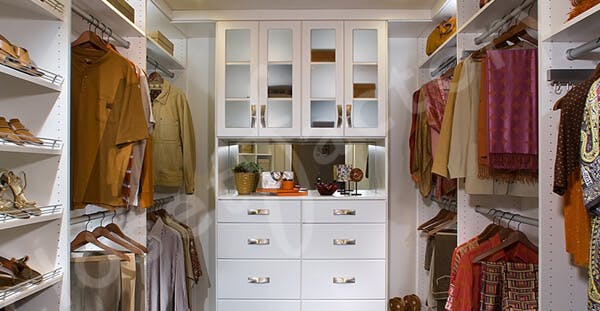 My previous blog post discussed the beginning steps I took to "spring clean" the clutter from my overflowing closet, over these past two weekends. The first 3 steps included:
Taking everything out of the closet
Sorting clothing and accessories
Using the right products to clean the closet and organizer system
Now, let me reveal the final steps of my weekend closet organization project. These steps should be taken after the closet is bare and has been cleaned of dust and debris. These additional steps will help you to determine how to maximize your space to fit the all your closet storage needs and help to prevent future closet clutter.
Inventory Your Clothing and Accessories: The purpose of taking an inventory is to know what needs to be hung, folded, placed in drawers or on a shoe organizer shelf. If you want to take the personal inventory a step further, we do offer a Free Download Guide to give you tips on thoroughly taking a count on each item. This guide is also a great tool if you are thinking of installing a custom closet organizer.
Discard Old Hangers: This weekend I found that I still have some random plastic hangers that not only take up space but are also are impractical. I highly suggest using the same type of hanger, which creates more closet space than mixing different ones together. Mixing different types of hangers tends to create a closet clutter. I use space saving hangers such as the brand Huggable Hangers and for more information visit my post on The Best Space Saving Hangers For Your Closet.
Finding A Home For Everything: Once you have your clothing and accessories sorted, folded and hung, it's now time to place them back in your closet. Its best if you create some sort of method or organizing system. Folded items go in drawers or on shelves while hanging garments are placed on closet rods! For closet organization purposes, some people like to keep "like" or seasonal items together, while others use a color coordinating system for grouping their clothes.
Consider Installing A Closet System: If you find that you have an overflow of items creating additional closet clutter, such as too many folded sweaters or too many hanging items. But lets face it, some garments you just cannot part with! I keep some pieces for sentimental reasons but still have to store them away properly. If you are in the same situation this may be the right time to contact a closet designer to help maximize your closet storage space. I have suggested Closet Factory to many of my friends! We offer a free design consultation and a closet designer will visit your home, measure the space, and see how best to create a closet organizer system that will fit all your clothing and accessories!
Previous Blog Post: How To Spring Clean Your Closet! Part I
Need to maximize your space? Request a Free Design Consultation and have a Closet Factory Designer assist you in your closet and home organization needs!