Design A Custom Closet with "Bling"
Closet Designer Kelly LaVine Shares How to Add Bling to Closets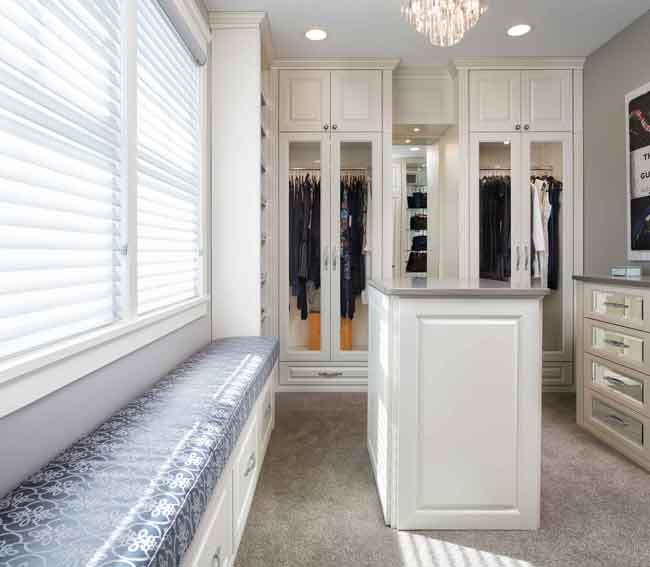 The custom closet has been the cornerstone of luxurious homes for literally hundreds of years, and yet continues to be an important space for today's homeowner. Demand for beautiful custom closets is actually one of the hottest trends in luxury home design. Closet Factory has not only been at the forefront of making custom closets for more than 30 years, we have been at the tip of the spear as well when it comes to creating completely customized and regal walk in closets.
Minneapolis Closet Factory designer, Kelly LaVine recently created just such a luxury custom closet for one of her clients near the Twin Cities area of Minnesota. Like all of her assignments, Kelly began the design process by collaborating with her client to better understand what her design objective was.
We really wanted something beautiful and she loves 'bling', so she wanted it to have lots of glass and mirrors to hold all of her really nice clothes. I think she really wanted it to be her own private sanctuary." Closet Factory designer, Kelly Lavine.
"She was the best client in the world! We had actually worked together on another project in the past, and so she trusted me and I knew the type of things she liked and understood what she was really looking for," said Kelly.
According to Kelly, the client was looking for something very specific: a custom closet with lots and lots of dazzling details!
"We really wanted something beautiful and she loves 'bling', so she wanted it to have lots of glass and mirrors to hold all of her really nice clothes. I think she really wanted it to be her own private sanctuary," said Kelly.
Custom Closet Design Showcases Shoes
One of the focal points for this elegant custom closet became the client's extensive collection of shoes. So, Kelly created a floor to ceiling shoe display section that provided an excellent way to exhibit the shoes.
"As you can see from the pictures, she has got lots of beautiful shoes so we slanted the shelving to display them better and went all the up to the ceiling with crown molding in a built-in nook to really highlight her shoes," said Kelly.
Use Glass to Add Elegance to Any Custom Closet
When it comes to elegant custom closets, glass is the ultimate material to make your possessions sparkle more while simultaneously underlining the impression of elegance. By storing your clothing behind glass doors and on top of glass shelving, your custom closet immediately takes on a look of glamor. Kelly took advantage of this trend by incorporating a series of glass shelves that helped display the client's handbags in showroom fashion.
"The client asked me, 'well, what do you see there?' I said well, I see glass shelves there, what do you think? She loved the idea! And because she likes to layer things, and is very creative as well, she said, 'and let's back it with mirror.' She was such a fun client to work with," said Kelly.
Another great way to create a Hollywood-style, decked-out  custom closet is to include unique surfaces and textures. Kelly saw drawer faces as a great way to create a great design that reflected the client's style…literally. To accomplish this, she designed a center island that included five-piece Thermofoil drawers that were custom fit with beveled mirror inserts. The inserts created a beautiful mirrored facade front. In addition, full-size mirrors were placed in dramatic locations, and placed in Thermofoil molding to tie the mirrored look .
"I went with five piece Thermofoil drawers so that all of the edges would be square to accent the bevel. It turned out really nice," said Kelly.
Together, Kelly and her client really put the emphasis on the "bling" factor by including crystal handles and pulls by Swarovski. The special hardware not only accentuated the overall design of the luxury dressing space, it also added a layer of bedazzlement.
"It's a fun hardware, don't' you think? But the thing about that hardware is that it is a classic shape without being too ostentatious, and definitely brings out the 'bling'. With the mirrored fronts, it just turned out perfectly," said Kelly.
Finally, no elegant luxury dressing room would be complete without a place to showcase and store jewelry and accessories. Kelly created an elegant jewelry drawer solution that included a reverse pull-out-tray with double Lucite and velvet trays in the bottom.
"We call it a double jewelry drawer which is basically a jewelry drawer with a reverse pullout tray inside. We typically line that with a velvet insert at the bottom, and then the top tray has two Lucite inserts so that it's almost like a triple-decker in each drawer. She got four of those drawer in the one cabinet, so she has lots of jewelry to organize. It was like being in a store!"
By Vincent Aviani