Houzz Survey Shows Closets Are Important In Home Renovations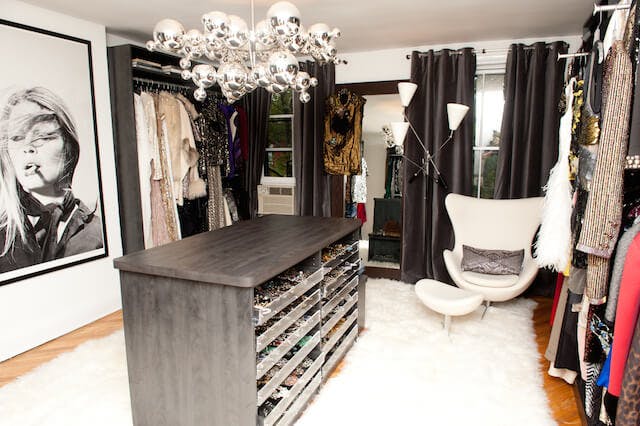 The results of the annual 2013 Houzz & Home survey expressed the positive attitudes of American homeowners have toward the longterm investment in their homes. Houzz, one of the leading online sites for home remodeling and design, surveyed 73,374 people all over the U.S. on their home renovation plans and their motivating factors. The survey found that surprisingly, the majority of homeowners (83%) wanted to improve their homes to please themselves rather than fixing their homes to resell while 54% said their motivating factor was to increase the home's value.
Most people felt more confident about their home's value, which was expressed in their willingness to invest in home improvement projects. Once again, bathroom and kitchen remodels or additions were on top of most people's project list. Next on the to-do list was flooring, paneling or ceiling replacement, patios, windows or doors, followed by deck and porch renovations.
Proving that closets have become a priority in home improvement efforts, closet redesign and custom closet additions were next on the list over bedroom and living room renovations. Houzz also found that 42% of homeowners cited finding storage solutions and efficiency as one of their primary motivating factors to renovate. Other factors for renovation are improving the look, feel and layout (83%), increasing home value (53%), upgrading features or appliances (53%), increasing energy efficiency (34%) and incorporating new technologies (17%).
In the U.S., the average amount of money spent on home improvement was $28,030, and when it comes to staying on budget, 41% of people who remodeled admitted they went over budget – with those who executed high-end renovations as the biggest perpetrators. On the flip side, only 23% of those who redecorated said they went over budget.
Of those planning home projects in the next two years, 58% are planning to hire professional help and when asked what criteria they would use to hire someone, more than two-thirds of the respondents said, "A personality I can work with." Other important criteria included quality of ratings and reviews, credibility and professional expertise in their field.
The survey concluded that in today's marketplace, which is full of web savvy homeowners, these knowledgeable clients feel empowered when it comes to their home improvement projects. Due to their ability to research and read reviews, homeowners feel more confident about being active participants in the design and renovation process. They are determined to find the best professionals that can execute their vision with the products and materials that meet all their criteria. Due to the various resources available online and through referrals, homeowners today have the tools to arm themselves with the information allowing them to effectively manage their projects and act as a full partner in the renovation of their American Dream.