Getting Organized: The Key To Clutter Control – Part I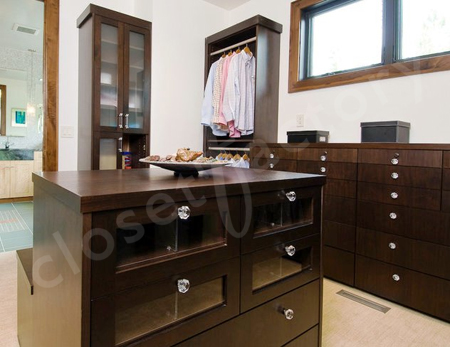 As a closet designer, my goal for every design is to make clients' lives run more smoothly by bringing organization to their space. It's amazing how that first step of organization is often the hardest, but it can make an incredible and lasting impact. Once you change one element in your life, it often has a profound effect on everything else you do.
Every organization project has its own challenges. It might be the configuration of the space, trying to fit too much into the space or inadequate use of space that is available. The area itself almost doesn't matter; the key to getting organized is to create a plan that provides a designated space for everything that requires storage. Once each item has its own space, it is much easier to put it back where it belongs. If you don't change your method of storing your items, you are likely to end up back where you started in a short period of time.
The process of getting organized is relatively simple: Make a plan, set aside the time, marshal the help and the materials, and then go at it in an organized Manner.
Taking The Plunge: Part One
Making a plan assures your project will go smoothly and that you will accomplish your goals. Your plan needs to answer important questions such as:
What is your goal?
What help will you need?
How long do you think it will take?
When can you get it done?
What are the steps involved?
With that information, you can then research the types of storage you will need. Containers are available in all shapes and sizes. Visit your local office supply, bed and bath, or storage store and purchase an assortment as samples to determine which are the best for your needs. Keeping smaller items in plastic bins keeps down clutter and makes things easy to stack, store and find! I will expand further on this subject in the next post!
After determining your storage needs you may your home has a misuse of space that will contribute to clutter. A professional closet designer is not restricted to creating a custom closet system for you, but can also assist with your home office, pantry and even storage solutions for the family media room! The Closet Factory in-home design consultation is free, so request one today and move forward in eliminating the clutter!
This article was published in the Home Interiors Building Women Summer 2011 edition a publication by The National Association Of Home Builders (NAHB).