Before & After: A Garage Makeover By Closet Factory Houston You Won't Believe!
Who said your garage can't be a work of art?
These 'Before & After' photos of a recent Motor Trend Garage makeover will have homeowners and car enthusiasts alike wondering why they've neglected one of the largest areas of their home for so long. Here's how Closet Factory Houston turned one musty, chaotic garage into a true masterpiece.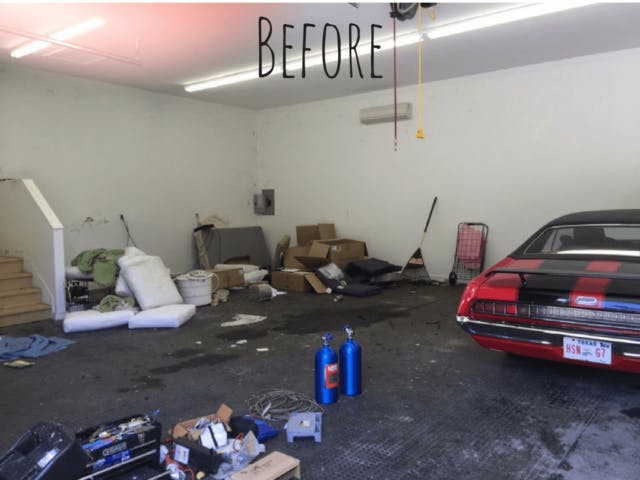 "My clients, Lonnie and Beth Wright, were interested in transforming both of their garages to accommodate and work on their classic car collection," says designer Julie Green.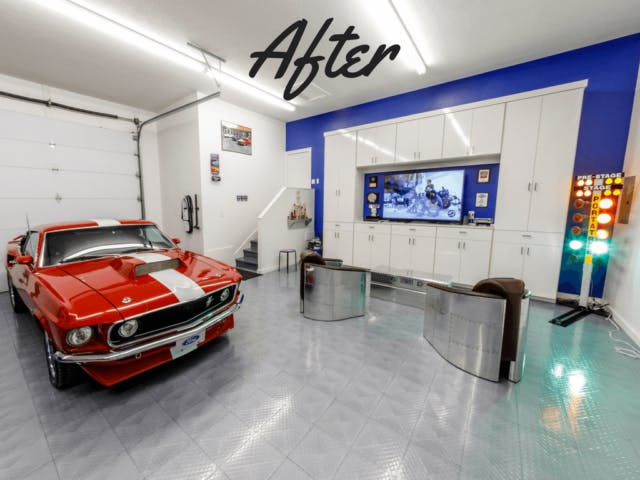 "The 'Ford showroom garage' includes two 4-post vehicle lifts for parking, aluminum color race deck flooring, a high gloss white media center, and a wall-mounted car vacuum."
TIP: Before detailing a classic car, it's best to examine the paint under bright lights to ensure you spot all of the surface swirls, scratches, chips, and other imperfections.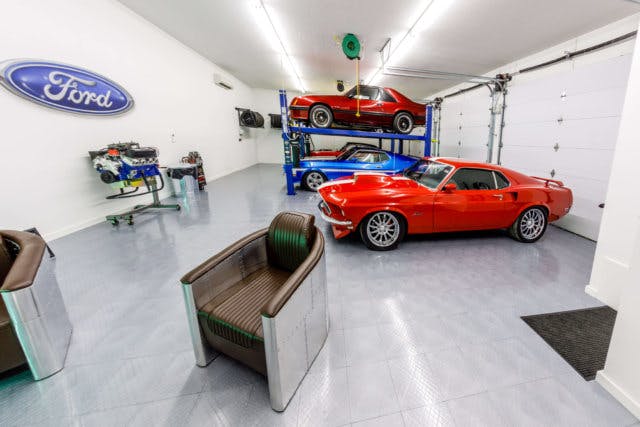 "The Ford-blue accent wall and airbrushed emblem were painted by artist Paul Sanchez, who did a fabulous job!"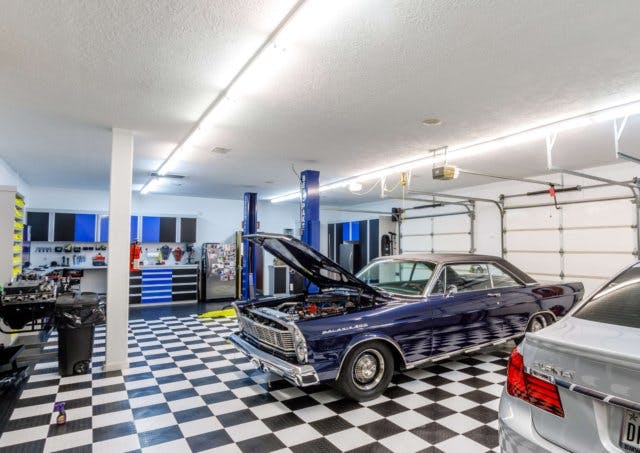 Every home is unique, so of course every garage should reflect how the homeowner plans to use the space. That's why establishing areas based on specific needs, as Julie did with this garage makeover, makes so much sense.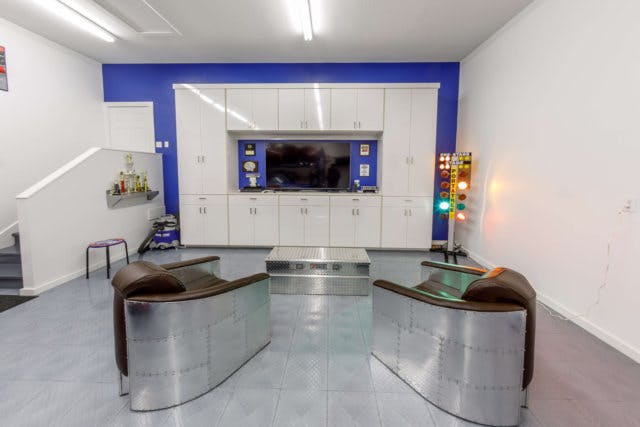 "This garage is used to showcase Lonnie's Ford collection and to lounge around and watch his favorite car enthusiast TV shows," says Julie.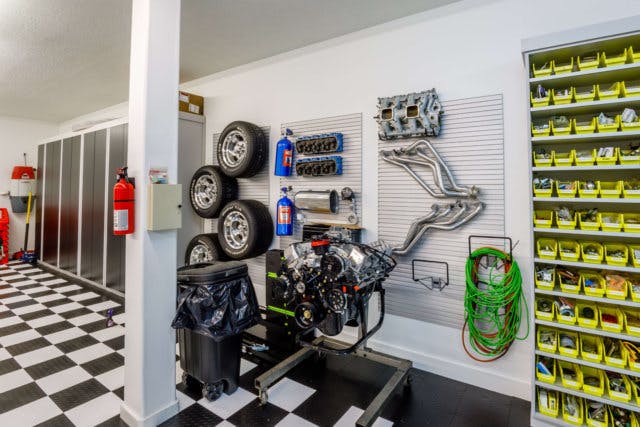 More than just a luxurious man cave, the second garage is also a functional, well-organized work space. Storing items like tires, hoses, and other equipment in designated sections allows the Wrights to find what they need for a project quickly and easily.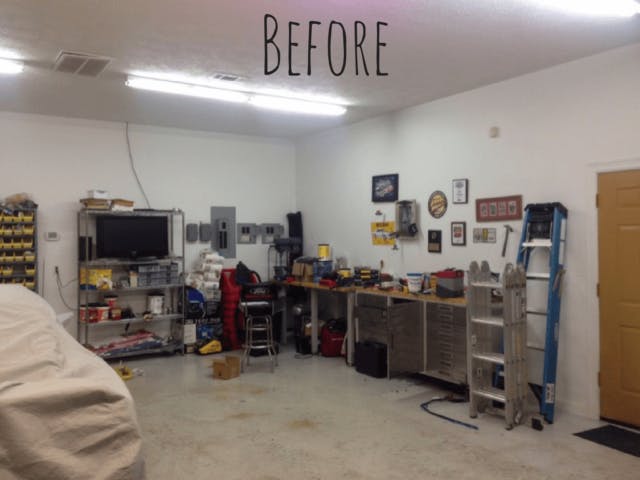 Julie continues: "The 'work' garage includes black and white race deck flooring, the Omni track slatwall, as well as a one 2-post vehicle lift to raise the car and be able to work underneath of it."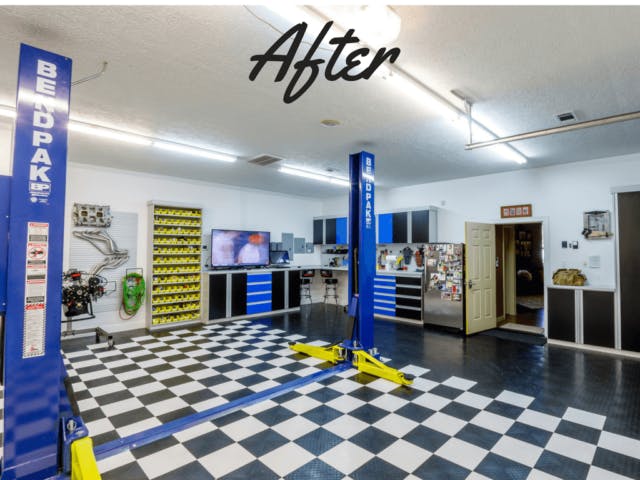 "The extended work bench, comprised of grey and black melamine with high gloss blue accents and aluminum extruded handles, provides plenty of convenient storage for the tools Lonnie needs to work on his cars."
TIP: Use it or lose it! Classic cars should be started up at least twice a month, or else the brakes will start to fail, the clutch will get stuck, and the engine will slowly succumb to rust.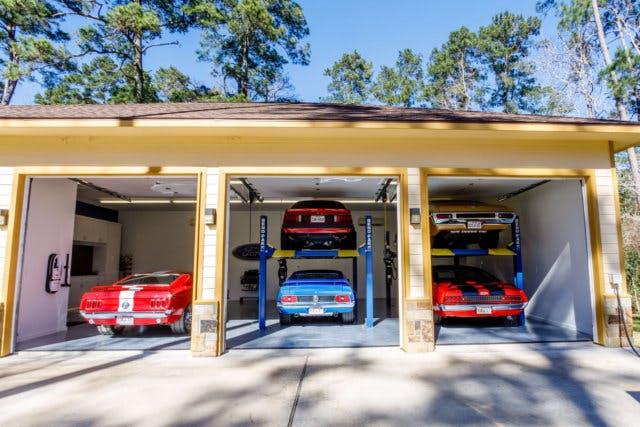 "My clients are beyond thrilled with their new spaces!" boasts Julie, and rightly so. "They especially enjoy the contemporary look along with the overall functionality."