Four Quick and Easy Space-Saving Tricks
So, your house is smaller than ideal. You dream of kitchen islands and extra shelving, but awaken to the harsh reality of limited square footage. Don't get down because you can't host the weekly yoga sessions, though. Nominate another host and use our tips and tricks to make the most of your small space.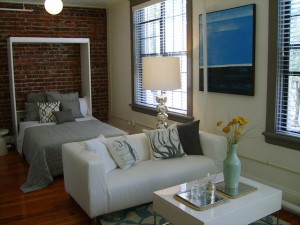 A Murphy bed is the ultimate space-saver. As shown here at Portland's Arthur building, a wall bed can instantly transform your home. Your living room can morph into a bedroom and a bedroom into a place to entertain. A custom reach-in closet is also a sound investment in a tiny home. Closet factory can construct a well-balanced closet, complete with drawers, rods and shelves to accommodate your wardrobe while eliminating excess furniture. Beyond that, there are several fun and creative space-saving tricks that can be done in moments to add charm to your little place.
The age-old complaint of small and large homeowners alike is a lack of storage. And while some people complain that they have nowhere to put their 50 pairs of pumps (hello walk-in), you don't even have room to hide your toilet paper. The linen closet is at capacity and your pedestal sink leaves no stowing room. Most of the time you end up throwing a few rolls behind the toilet but it ends up looking messy. Here's an idea: stop trying to hide it. We suggest finding a stylish and tall vase to place by your toilet. You can stock up on multiple rolls while keeping your powder room neat and chic.
Another simple hack will clear up some room in the kitchen. Take those vintage curtains off of your kitchen's curtain rod and replace them with pots and pans. With limited kitchen cupboards there can be few places to store your cooking supplies. It is smart to make use of wall space and hanging pots create an industrial-utilitarian feel. If there is no curtain rod, simply mount one anywhere in the kitchen to save at least a few feet of storage.
A different way to maximize precious floor space is to install a slat wall. These are great to organize craft areas and can even work in the kitchen to hang rolling pins and the like. Just make sure you are choosing visually appealing tools and accessories. This wall storage will be replacing artwork that would otherwise be employed to adorn your walls. So add some bright colors and modern hooks to keep your place looking fresh and clean.
There are a million other inexpensive and fun ways to save space, so use these as inspiration and share with us some of your creative endeavors!