Design Your Walk In Closet Around Your Favorite Furniture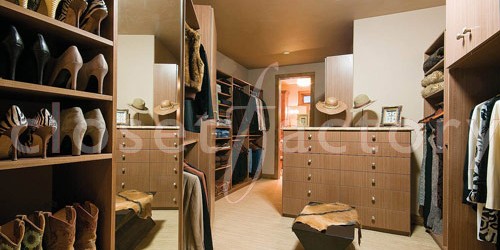 Congratulations – you're about to design a walk in closet!  Maybe you are remodeling or purchasing?  Maybe you're an empty nester treating yourself by turning an extra bedroom into a walk in closet?  Where to start?  The ideal walk in closet has far more than shelves and rods – plenty of drawers to store lingerie and small items, even a vanity table for makeup, jewelry and perfumes.  If it's large enough, it should be a room you enjoy spending time in, decorated to your tastes.
Recently, a Closet Factory Boston client called on me to design her walk in closet in a spare bedroom with a rather unique request. She had beautiful bedroom furniture that she wanted to incorporate into the closet.  She wanted to free up floor space in the master bedroom, and the furniture would no longer be needed in the bedroom once the closet was installed.  But she loved the furniture pieces and didn't want to part with them.  Could we design her furniture into the closet?  Of course!  But could we also make it flexible enough that if she moved in the future and took her furniture, the closet could be modified for the future homeowner?  Of course again! All Closet Factory solutions are customized to fit a client's space, needs, and ideas.
We designed the room around a very long bureau, a tall lingerie chest, a tall jewelry chest, a vanity table, and a large ottoman in the center for seating.  We added panels at the sides of each piece of furniture and shelving above.  Then we added sections for hanging, and sections of shelving for folded clothing, shoes, and handbags each in individual cloth bags.  We also added two large drawers lined with handled cloth bags for laundry and dry cleaning.  We retained boring holes on each panel around the furniture so that the new homeowner can add shelves, drawers and rods for more closet space. We matched the new materials to her furniture, and the results were stunning!  The room is far more than a closet, it is an elegant dressing room that the client enjoys spending time in.   And while it meets all of her storage needs, she is still surrounded by the furniture she loves!
Find out how you can save money, time and space by downloading your own Personal Closet Inventory Worksheet. Browse our project gallery for some inspiring ideas.