How to Design an Efficient Laundry Room
Amazingly, Americans spend an average of eight hours per week in laundry rooms across the nation. And, they do approximately 35 billion loads of laundry a year. This is even more than the average amount of time we spend in the bathroom, yet the bathroom takes on much more significance when it comes to home design. In homes where space is limited, laundry rooms are being integrated into the bathroom or kitchen, and due to busy, multitasking lives, some laundry rooms also double as a home office, craft room or mud room.
Since we spend so much time in the laundry room, it's time homeowners put some effort into creating a space just as aesthetically pleasing and functional as the kitchen and bathroom. When it comes to laundry room ideas, start by visualizing your materials like water-resistant ceramic counters and stone floor tiles, which are a smart alternative to standard, run-of-the-mill tiles because they are easy to clean and durable.
In addition to a washer and dryer, consider adding these five great elements when you design an organized and functional laundry room.
1 – Custom Cabinets
Not only do custom-built cabinets provide storage for detergent and cleaning supplies, but they also can be as decorative as the rest of your home's interior. With custom cabinetry, you can get door and drawer fronts to match the style of any room in your home. Or, give your laundry its own unique style with Shaker-style cabinets finished with an easy-to-clean, high-gloss paint to create a cottage look.
If your laundry room is a multi-purpose room, you can install custom door fronts to cover your washer and dryer when not in use. In addition to storing pullout laundry baskets and an ironing board, you can also order shelves deep enough to serve as a linen closet.
2 – Clothing Rods
Similar to a custom closet, installing a clothes rod provides a place to hang shirts and delicates straight from the dryer. For those who prefer to air-dry their clothes, install a double hanging rod in a custom-built system, which also provides additional storage when not drying clothes. If you have limited space, use a pullout valet rod, which will perform the same duty.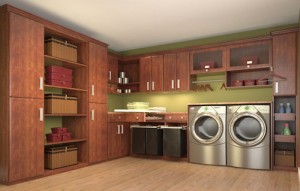 3 – Counters and Cubbies
Getting counters with different heights will help you perform different tasks. If you have front loading machines, the top of them will provide counter space that works well for folding. If you have a sink in your laundry room, a 36-inch height is the norm for sink counters, which provides additional surface area for folding, hand washing and other tasks. Installing low cubbies with one for each member of the family can encourage kids to retrieve clean laundry themselves.
4 – Slatwalls
A staple for garage storage to vertically hang car care, yard tools and sports equipment, slatwalls also work well in the laundry room, especially if space is limited. Slatwalls allow you to hang dirty laundry bags, cleaning tools like brooms or mops, and you can also store laundry supplies in various sized baskets that hook into the wall.
5 – Decorative and Task Lighting
Lighting is an important functional and accent element for any room. Design-wise, choosing the right lighting fixture will top off the look of a laundry room – whether its country, modern or any other style. Installing task lighting such as under-cabinet or shelf lights will provide functional use since they illuminate specific work zones.