Demystifying Melamine And Why Sometimes It's The Perfect Solution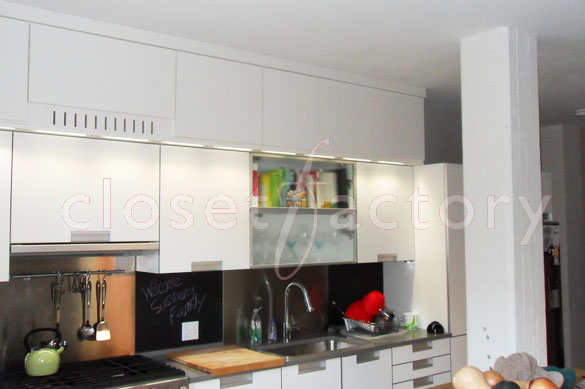 This is not your grandmother's white melamine…
Sometimes overcoming a client's mis and/or preconceptions of melamine can be one of the tougher jobs for a Closet  Factory Designer (Visit Closet Factory's Expressions section for the many choices of styles, colors, products, layers, and organizational functionality). Trying to explain that your material is ¾" and made of industrial grade pine core particle board and carries 100 p.s.i. sometimes isn't enough because the words "particle board" can start another list of mis and/or preconceptions. But occasionally you walk into a situation where white melamine is the perfect and ONLY solution for a tough area. I love it when that happens!
As designers, we know how versatile and cost effective white melamine can be for closets and shelving. If you are looking for organized closets on a budget – white melamine is your answer. But can it be used in other applications and work well?
Enter Jessica and Michael who live in a renovated loft in Boston, MA. The space is oozing with light and brick and charm. The kitchen however was a bit of a challenge. It contained white melamine cabinets with no task lighting and a huge open space above the wall hung cabinets. My client needed a storage solution that would fit cohesively into the space, as a total kitchen remodel was not in the budget.
White Melamine cabinets that overhang the existing cabinets by only a few inches provided a perfect spot for a strip of LED task lights and a place to hide the clutter.
Sometimes white melamine is the perfect solution!
By: Laurie Miller, Closet Factory Boston
*Not every location specializes in kitchen closet design. If you're interested in closet design for the kitchen, please visit the main Closet Factory website or call (800) 838-7995 to find a location near you.