How Decorative Glass Enhances Your Home Office Design
When you're defining your home office style, take a cue from the rest of your home. Look around and you'll see that one of the most important style elements is clear—clear as glass, that is! You're likely to find glass in every other room of the home so it makes sense to implement the idea in your workspace.
Everything from desk organizers to custom made cabinets can be enhanced with glass accents, door inserts, colored glass surfaces and decorative glass shelving.
Indeed, since the goal is to create a warm and inviting home office design that is an extension of the rest of your home (as opposed to some sterile work environment completely disconnected from your homey sense of style), pulling in the concept of decorative glass shelves and surfaces is a no-brainer.
The best part is that "colorful" is completely open to your personal interpretation. Whether you mean literal colored glass or colorful accents on clear glass or even "colorful" out-of-the-box selections, with so many options out there, there's something for everyone.
Here are just some of the ways you can work color and glass into your workspace.
Back Painted Glass
Take a tip from the kitchen and select a show-stopping piece of custom-cut back painted glass for your cabinet or wall-shelving unit. Back painted glass is simply a panel of low-iron glass that has been painted on the backside (as opposed to the exposed surface of the glass). This speical paint application protects your color from fading and keeps the paint free of scratches and other wear and tear.These luminous and sleek surfaces can enhance your office and take your working environment to the next level.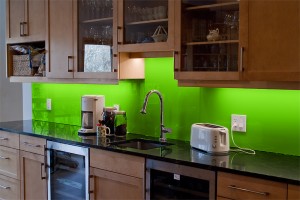 Since these pieces of low-iron glass (to minimize that color-skewing greenish tint that naturally occurs in glass products) are ultra-clear before your color of choice is painted on the backside of the glass, the result is a glass panel that is 100% true to the shade you selected.
And they can go virtually anywhere, so you might select a cool colored option like:
A glass tabletop for your office desk
A glass partition door that separates your office from an adjoining room
A colored glass countertop if you need to spread out to work (for designing, drafting, measuring fabric, laying out photos, etc.)
Glass shelves, either floating or contained within a cabinet
Cabinet glass inserts
Tip: Certain colors promote productivity better in specific professions.
Warm colors like red, orange and yellow will stimulate neurons and muscles and may be more appropriate for creatives and jobs that involve free thinking.
Cool colors like blue, green and purple are more relaxed and appropriate for a high stress job that requires you to be focused, analytical and balanced.
Repurpose Cabinetry Using Glass Inserts
One effective way to save money as you marry color and glass is to swap out your cabinetry's existing wood doors with painted doors with custom-cut glass inserts.
These glass panels can be clear or frosted and when paired with a wood surround that is painted in the color of your choice, you have the tasteful touch only a beautiful piece of glass offers combined with a pop of bright color.
By working with what you already have, you can maximize your budget to the fullest without sacrificing important storage space or compromising your décor goals.
Tip: No matter what type of glass surfaces you select, don't forget about accessories. There are all sorts of simple solutions for office supply storage that can merge cohesively with your design scheme.
For example, instead of your run-of-the-mill pencil cup, opt for a beautiful glass vase with a wide opening or a glass dish to store your paper clips. If you pick something pretty, you can satisfy your décor and functional office needs in one fell swoop!
What are some of the ways you've found to decorate your home office space that complement the rest of the house? Let us know with your comment below!
Shahab Shokouhi is a glass design expert at www.dullesglassandmirror.com, an innovative manufacturer of glass table tops, glass shelves, and all other glass and mirror products. Follow Dulles Glass and Mirror on Pinterest or on YouTube to see how they're changing the way glass products are manufactured, customized and delivered.