Daniella Monet's Boutique-Style Closet Guide & Tips

The last time we left actress Daniella Monet (Nickelodeon's "Victorious," "Baby Daddy," "The Fairly OddParents Movie"), she was telling us how excited she was to finally experience her new dream closet.
In part 2 of my series with her, Daniella reveals some of the stylistic choices that went into her closet design and how others can achieve the boutique feel at home.
Give Yourself the Boutique Treatment at Home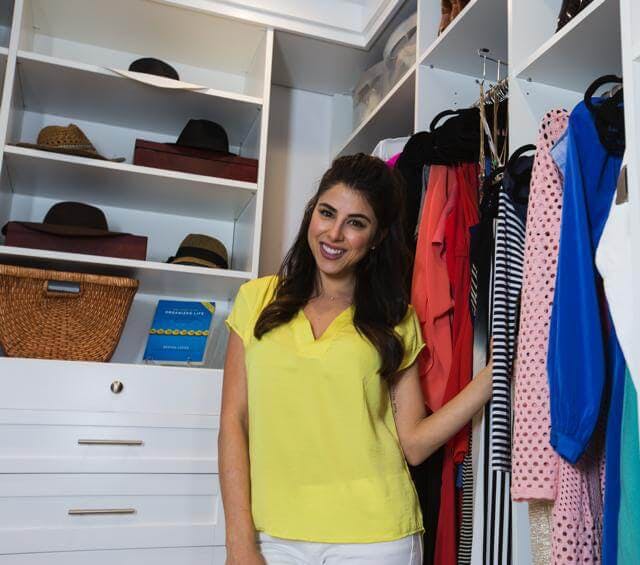 Apparel retailers strive to create an intimate vibe that actually mimics a personal closet. They want you to feel both energized by the array of merchandise and comfortable enough to try items on.
"I wanted enough room for all of our shoes to be displayed," explains Daniella. "Because as it is now, we have some by the fireplace, some by the front door, some in the closet in the front entryway. I mean, they're everywhere! I don't wear a ton of nice shoes, but if I see them, I'm going to wear them."
It may seem obvious, but remember, that just like a boutique, you should…
Let Your Eyes Breathe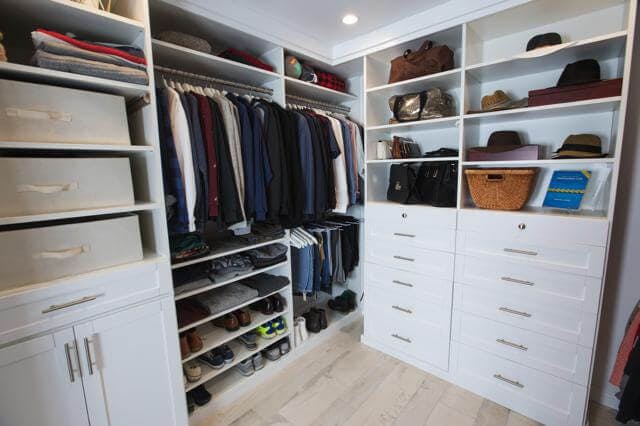 Visual merchandising is driven by organizing space and color so that it's easy to find what you want. Why not use those same techniques to get dressed more efficiently?
"In Daniella's new closet, the drawers are full extension, so you can see the full box of the drawers," explains Closet Factory designer Joanna Forbes. "Also, they're appropriately sized. The jewelry drawers are a little shallow. Then down below, where there are T-shirts and workout clothes, those are a little bigger. So when you open up the drawer you can see everything easily and know what you're going for, as opposed to having to dig through to the bottom."
It might sound simple, but being able to get to things without having to uproot or knock over the entire pile goes a long way towards staying organized beyond spring cleaning.
"I'm so excited to be able to see my clothes and move them, you have no idea how much I'm looking forward to that," says Daniella. "Right now it's like you got to reach in and jimmy it out. A lot of my clothes are either inherited from shows or movies, whatever the experience was. I can't wait to see everything all together."
Declutter to Uncover Written-Off Clothing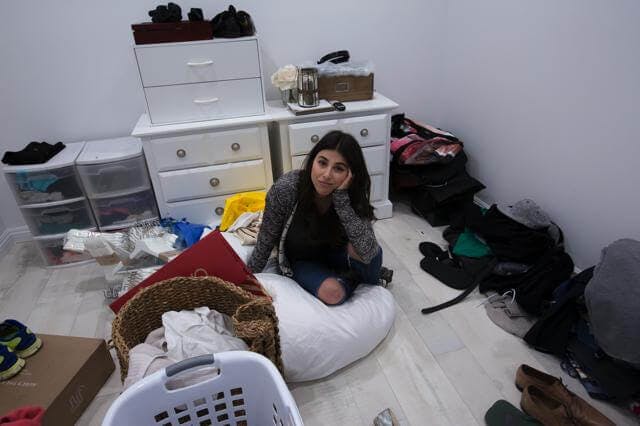 "I'll tell you a secret about closet design," offers Forbes. "There's always clothes hidden somewhere in the house that people have adjusted to and don't remember where they are, so we have to dig deep and understand where those extra clothes are. Usually when we put clothes back in a closet we're editing out the things we don't need because now we can see the things that we have."
Professional organizer Regina Leeds also brought up this point about 'extra clothes' as she transitioned Daniella's wardrobe into the new closet. Sometimes it's easy to forget an article of clothing simply because it's buried under other items.
"I had a client who told me she had nothing in red," Leeds recalls. "She left for the day after we edited her closet, and when she came home, she had a whole row of nothing but pink and red. It was all tucked in there and she didn't know it."
Sometimes all it takes is a little decluttering to find out you actually have more than you thought.
Keep the Design Personal but Seamless
Another one of the perks of creating an actually custom closet is being able to match the style and materials with the rest of your home's décor.
"I think the whole vibe of our home right now is bright and light and has this energy, and I wanted that to represent itself in the closet," says Daniella. "We went with a Shaker style door because Joanna was really good to notice that that's what our cabinets were in the kitchen and master bathroom, so everything is just going to be very cohesive. She went so far as to match the handles on the doors, which is extremely important."
The Right Accessories Help Personalize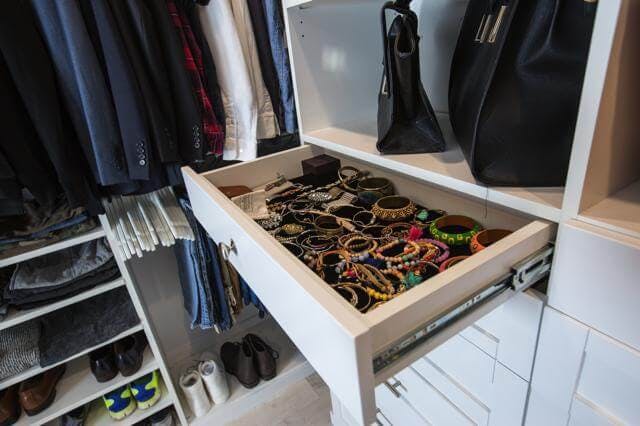 Closet accessories can take your in-house boutique to the next level. Daniella incorporated velvet-lined drawers for her collection of jewelry and valet rods to help her plan outfits.
"I try to do two [valet rods]," says Joanna. "Because if there are two people in the closet, they really don't want to have to share that. Because they realize what a handy feature it is. You can pull it out, hang your clothes or your dry cleaning if you're not quite ready to put it away. Daniella might use it if she's going out to a big event to get her outfit ready for the night."
I was slowly realizing that working with Daniella was about more than just a closet makeover – it was about transforming a blank canvas into an extension of her personality, combining form and function in away that turned organization into an art form.
"To have something that's really true to me and suits my style, my lifestyle, my clothing and shoe needs – it's amazing," Daniella says, as she prepares to take me on a full tour of her finished dream closet. "I think everyone should do it this way!"
Watch the full Daniella Monet closet makeover video here:
Closet Gems
In part 3 of my series, Daniella reveals a little backstory for some of her favorite things to wear in her closet, including a one-of-a-kind piece of fan-made jewelry.
Check back on Friday for part 3!
If you missed part 1, be sure to head over and read A Closet Makeover Sparked on Twitter (or How I Met Daniella Monet).
For more stories like this, check out more of our blog or follow us on Facebook, Instagram, or Pinterest!